"Leadership is Love": How a Navy Admiral Made a Difference One Person at a Time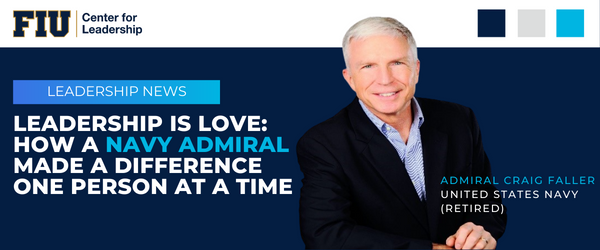 It was 5 a.m. on a stormy day in 1993. The skies were gray, and the seas were rough. Craig Faller, a naval lieutenant at the time, was crossing the Atlantic on a Middle East deployment. He was on the ship's bridge, holding on tight to steady himself, when his commanding officer approached him with an odd question: 
"Why did you stay in the Navy?" They were one week into a six-month deployment, and Faller could have left the service after fulfilling his five-year commitment. Instead, he stayed on.
"Boss, I love being part of the world's 'winningest' team," Faller answered. However, his commanding officer, a "demanding but passionate, people-oriented" leader, wasn't buying it.
"That's no reason to stay," his boss said. "You'll figure it out some day."
Faller was crestfallen. And perhaps also a bit confused. Was being part of a "winning team" not enough to stay with a job? Was there some motivation he was missing?
Six years later, the two met up again when Faller was set to take command of his own ship. He told his former commanding officer that the conversation had eaten at him ever since. And Faller later realized what his commander was alluding to.
"I have evolved to where I love what I do – the people and the mission," Faller told his former boss. "Over the years, the teams that perform the best are those who have the fundamental love of team and mission. It is professional love."
From his four-decade military career, Admiral Craig Faller (ret.) will share how he learned everyone has the capacity to be a leader, by loving what they do and building that love through a currency of trust, at The Leadership Lectures presented by the Center for Leadership at FIU. This event will be held on Thursday, January 26, 2023 at 9:30 am in the Graham Center Ballrooms.
The "leadership is love" ethos guided Faller's ascent through the military. With it, he became the commanding officer of two warships, the commander of an aircraft carrier strike group, the director of the U.S. Central Command, the Department of the Navy's Chief of Legislative Affairs, and the top military assistant to Secretary of Defense James N. Mattis. The four-star admiral retired in 2021 after serving three years as commander of the U.S. Southern Command in Miami.
Throughout his career, Faller focused on "three C's" when managing a team: character development, the improvement of personal competence, and clear communication. These areas are critical to building trust. Resembling the answer that dawned on him years after his conversation with his commanding officer, "trust leadership" came to Adm. Faller over time.
"It wasn't an epiphany, it was a slow maturation of what I felt about the art and science of leadership," said Faller. Throughout his life Faller has held positions of leadership. As a child he was an Eagle Scout. Later on, he became captain of his high school basketball team. He graduated from the U.S. Naval Academy with a Bachelor's of Science in Systems Engineering in 1983. All the while Faller continued to lead teams while furthering his education. By 1990, he became a distinguished graduate of the Naval Postgraduate School with a Master's in National Security Affairs.
Looking back on his career, Faller found himself driven as a leader by other "C's" – the commitment, the calling, and the camaraderie of facing perilous missions together to protect the Constitution and his crew.
"The military gets misunderstood," he said. "It doesn't feel right to think about love as a first order of business. But it's not at odds at all. The tougher the assignments, the more you have to find the human bonds. If you want people to do the impossible, they better know you're committed to them … The ultimate purpose of defining leadership and building trust is to make a difference one person at a time."
Even after his service in the Navy, Faller believes that anyone can have the capacity for effective leadership.
"We are all leaders. I really believe that," he said. "There is in all of us a reluctance to embrace that. Whether you're leading yourself, your family, church group, an after-school activity, a vacation or work group. Everybody has a role to play, not just the person who's in charge of that organization. Most effective leaders are those who were most reluctant to embrace that role."
Join the Center for Leadership at FIU at The Leadership Lectures featuring Admiral Craig Faller (ret.) on Thursday, January 26, from 9:30-10:30a.m. (doors open at (9:00a.m.). Reception and meet-and-greet to follow, in the FIU Graham Center Ballrooms.
The Leadership Lectures feature world-class, accomplished, and influential leaders with expertise ranging from business and philanthropy to public service and academic research. Through the lectures we hope to inspire thought-provoking dialogue within the community by providing access to the expertise, advice, and best practices of some of the world's foremost leadership minds. As such, the attendance to the lectures are free and open to the public.
About the writer

South Florida native Jeff Zbar has enjoyed a 30-plus year freelance career as a journalist, editor, author, and marketing copywriter. His portfolio of print and digital work appears in media outlets and for corporate clients across all areas of business and industry.