"Women to Watch" event gathers together Florida's entrepreneurial leaders on November 2.
Learning more about what it takes to run a successful business and honoring those Florida women achieving entrepreneurial success is the focus of the "Women to Watch: Florida's Entrepreneurial Leaders 2011" event on Wednesday, November 2.
This exciting day-long experience, presented by the College of Business Administration's Center for Leadership and the Eugenio Pino and Family Global Entrepreneurship Center, will be held on the campus of Florida International University.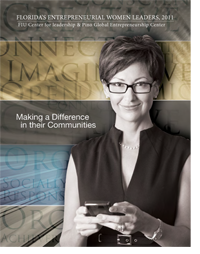 "Recently, a total of 342 women top executives from across the state completed the Center's survey on leadership and entrepreneurship," says Mayra Beers, Ph.D, Director of Operations and Knight Research Fellow. "The Women to Watch event allows us to share the latest findings on how to lead a successful organization and also to recognize the achievements of outstanding leaders."
The day begins with two workshops:
The Power of Pause: How Can Women Entrepreneurs be even more effective (and fulfilled) in a Demanding, 24/7 World? This interactive, entertaining program presented by Nance Guilmartin presents a flexible framework for success, giving ideas that attendees can use with employees and customers the minute they walk out the door.
Values: The Leadership Challenge This session by Dr. Beers presents tools to help participants identify, define and communicate the set of values that best reflect who they are and how they lead, and will include a conversation on how values influence decision making.

Following a networking reception will be a luncheon and awards ceremony honoring 25 of Florida's women entrepreneurs.
"Leading a successful organization is a Herculean effort," said Dr. Beers. "We're delighted to have the opportunity to recognize these outstanding leaders not only for their business achievements but for the difference they make to their communities." Asia Eaton, PhD, the survey project's lead researcher, points out what the survey results show about entrepreneurship. "In spite of the unstable economic climate, Florida's female business leaders continue to grow their companies and maintain a positive outlook," said Dr. Eaton. "Some factors contributing to this include mentors, active efforts at business expansion, and women's own personality profiles. Some common challenges these leaders reported facing include getting the right staff, government regulation, and lack of revenue and cash flow."
For more information on the Women to Watch event and to register, visit lead.fiu.edu or contact Kristyn Saunders at (305) 348-5323 or klsaunde@fiu.edu.