Women Leaders are Good for Business – and Business is Good for Women Leaders.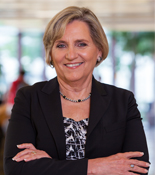 Renewed energy around women in leadership draws attention to leadership development programs specific to women executives.
The message was loud and clear from United Nations Women Executive Director Phumzile Mlambo-Ngcuka: more than ever, women in leadership positions are needed in the business world -- an arena working hard to empower women.
"When women lead side by side with men, it is good for equality and democracy. It is good for peace and stability," said Dr. Mlambo-Ngcuka in a recent address. "It is good for business and the bottom line."
Dr. Mlambo-Ngcuka, who became the highest ranking woman in the history of South Africa when she became its Deputy President (2005-08), also pointed out, "The private sector is a key partner in efforts to advance gender equality and empower women. Current research demonstrates that gender diversity helps businesses perform better. And this signals that self-interest and common interest can come together."  
"The subject of women in leadership continues to capture headlines, from Mary Barra of General Motors becoming the first female CEO of a global automaker to the advice and insight that Sheryl Sandberg gives in her controversial book, 'Lean In," says Dr. Joyce Elam,  Dean of FIU's University College and former Executive Dean of the College of Business.
Dr. Elam is a Fellow with the Center for Leadership at Florida International University.  Through her program and work with the Center, Dr. Elam has herself dedicated much of her teaching and research  to the advancement of women in leadership and is faculty director of the center's executive leadership development program for women, The Women Leaders Program.
Women Don't Need to Lead like Men
"A key factor for women in leadership is to understand their own leadership style and how to use this style to empower others to achieve success for their organizations," she points out. 
"Women don't need to lead like men do. More important for women is the need to understand their own strengths, be able to develop and leverage these. Continuous learning must be a priority."
Dr. Elam says that attendance is kept small for the Women Leaders program (formerly called Women on the Move). "Our sessions are intense," she says. "Participants evaluate their own styles, learn the latest research on leadership, discuss proven cases of success and develop an action plan. Charting a new future is a regular occurrence during the program and a smaller class lends itself to that happening.

"After participating in Dr. Elam's program specifically for women leaders, Monique Nunez had a complete change in responsibility and was named Interactive Marketing Manager at FedEx Latin America and The Caribbean. She credits the change in great part to CFL's program. "I was at a point in my life that I wasn't sure about where I was going, and I wasn't sure it was going to be at FedEx," Nunez says. "With the action plan I did during the program, I decided to stay at FedEx and make it known to others what type of job I wanted. That's exactly what happened."
Executive women can learn more about tapping into their leadership potential at this year's Women Leaders Program to be held April 1-4, 2014. Registration is now open.
Industrial psychologist Garth Headley, CFL's Associate Director, Marketing and Corporate Relations points out that companies are more and more realizing the advantages of having strong women leaders, as Dr. Mlambo-Ngcuka stated. Plus, overall, investing in leadership development to equip key members of the executive team with the skills and savvy needed is on the rise. 
"Leadership development industry is now a $13.6 billion industry, which includes a 14% increase in spending by companies who see the need to develop a bench of effective leaders and that includes developing strong, competent women leaders," he says. "Companies who ask 'Are we tapping into the full potential of our women leaders?' send key executives to benefit from the CFL's Women Leaders program."
For more information on the 2014 Women Leaders Program, visit   http://lead.fiu.edu/programs/womenleadersprogram/index.html