No "waiting your turn" necessary in Miami
Young leaders chosen for Class VIII of the Miami Fellows Program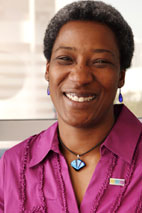 They're young and influential … talented … on fire … and ready to increase their leadership role in the Miami area.
Sixteen individuals have been selected for Miami Fellows Class VIII, now underway. This Miami Foundation program, which began in 1999, identifies individuals 5 to 15 years into their professional careers who are inspired by Miami's community potential, have demonstrated ethical leadership, and have the dedication to do more.
Charisse Grant, Senior Vice President for Programs at The Miami Foundation, is just one of the people impressed with the caliber of the Class VIII members. "Their passion to make great things happen in Miami is quite impressive," says Ms. Grant, who adds the Fellows come from both the public and private sectors and include people who have or want to pursue elected office and those dedicated to civic causes.  
She points out that these young people have realized that Miami is not a place where you have to "wait your turn."
"In Miami, young people can lead at a significantly earlier point in their career than in other metro areas,"
says Ms. Grant. "Each of the individuals in this Fellows class is already influencing the course of Miami. The Miami Fellows program, a 15-month learning laboratory, allows them to reach new heights."
Leadership training, a key component of the program, is presented by the Center for Leadership at Florida International University (FIU). FIU faculty share research and insight in a style specifically designed for The Miami Fellows, in order to engage these participants based on their age, career experience and aspirations.
Young Leaders Defining Miami
"The Center's training is one of the most beneficial aspects of the program," says Vance Aloupis, an alumni of Miami Fellows Class VI and the Statewide Director of The Children's Movement of Florida, a children's rights organization. "These young leaders are defining Miami today. They have deep roots in the community and identifying and strengthening their leadership skills will have a payoff in the immediate and long-range future."
Mr. Aloupis was the chair of the Fellows Selection Committee this year. Also serving on the committee was industrial and organizational psychologist Garth Headley, the Center's Associate Director of Public Affairs. Mr. Headley is also the Faculty Director of the Center's portion, referred to as The Leadership Labs. 
"This is an opportunity for a new generation of highly engaged Miami leaders to benefit from what we know builds individual leadership capacity." says Mr. Headley. "The Leadership Labs are especially crafted to help them catapult their careers, armed with insights about themselves and proven skill sets for effective leadership. That's a supreme advantage to have at a comparatively young age."

The Center for Leadership's executive programs were recognized in 2014 with the top ranking by Leadership Excellence and HR.com, ranking the Center's leadership development programs above those of more established institutions.
The current class of the Miami Fellows program will graduate in the fall of 2015.