The Children's Movement's Vance Aloupis to be honored as CFL's Emerging Leader 2016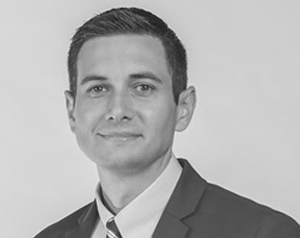 "The future of our state is literally resting on the shoulders of its youngest citizens," says Vance Aloupis, CEO, The Children's Movement of Florida, "How we nurture, educate and care for our youngest children, from birth to age five, will set them on a path for the rest of their lives. My vision is that Florida can, and will, be the best state in the nation for young children."
Those words, delivered with passion and conviction, are from a young professional who is step-by-step making that idyllic dream happen. The dynamic and impactful leadership of Vance Aloupis has resulted in him being honored with the Emerging Leader Award from the Center for Leadership at Florida International University (FIU).
"At the age of 32, Vance Aloupis already has established himself as one of our most influential young leaders, committed to serving South Florida and working as an advocate for early childhood development through The Children's Movement of Florida," says Mayra Beers, PhD, Director of Strategy for The Center. "The Center for Leadership is proud to recognize Vance for his achievements by naming him as this year's  Emerging Leader."
Mr. Aloupis will be presented with his award at an event in his honor to be held April 18, 2016 at the MARC Pavilion at FIU's South Campus. The Award is presented through the generous support of the Alvah H. and Wyline P. Chapman Foundation and includes a $1000 gift to the awardee, which Mr. Aloupis has asked to be donated to The Children's Movement.
"There are few organizations in the community that I respect and admire as much as the Center for Leadership," Mr. Aloupis states. "In 2013 as a member of the Miami Fellows Class VI, I received leadership training from The Center. Today, I am still applying the wisdom and skills I learned from that experience. What pleases me most about this honor is that it comes from people for whom I have the deepest respect and admiration."
A graduate of the University of Miami's School of Law, Vance now serves a member of the UM Alumni Association Board of Directors. Mr. Aloupis was twice appointed by Gov. Rick Scott to serve two-year terms as a commissioner for the Governor's Commission on Community Service – also known as Volunteer Florida. Vance is a graduate of Class VI of The Miami Fellows Program and Class IV of Connect Florida, a Leadership Florida program focused on the next generation of statewide leaders. In 2015, he was selected as one of 90 young professionals from across America to join in the first cohort of Harard Business School's Young American Leaders Program.
In 2014, Mr. Aloupis was honored by The Bob Graham Center for Public Service at the University of Florida with the Young Floridian of the Year award.
A passion for early childhood education
Mr. Aloupis joined The Children's Movement in June 2010, after practicing law for several years. "If we continue to believe that education begins in kindergarten we are doing our children a significant disservice," Mr. Aloupis states. "We must change our perspective. We must build a movement — a movement to make children Florida's highest priority. That is our pursuit at The Children's Movement."
In just five years, The Children's Movement has elevated the narrative of early childhood investment in Florida. Leading the way in expanding health care access to tens of thousands more children, increasing state funding for early childhood education, and creating a statewide parent resource – now available in 34 counties – called "Help Me Grow," The Children's Movement has grown to become the state's largest advocacy organization focused on early childhood issues.
David Lawrence Jr., former publisher of The Miami Herald and current chair of The Children's Movement of Florida, has high praise for Mr. Aloupis. "The best people I know have great personal values, dedicate their lives to helping others, and are lifelong learners. That's a fine definition of Vance Aloupis," says Mr. Lawrence.
Vance and his wife, Mariella, live in Aventura with their daughters, Isabella and Aria.