FIU Center for Leadership's Board of Advisors Elects Manuel Gonzalez as New Chairman.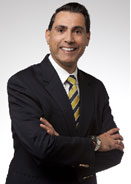 Manuel Gonzalez, president of MGM Consulting, has been elected as the Chairman of the Board of Advisors of the Center for Leadership at FIU. Among his many responsibilities as Chairman, Manuel Gonzalez will use his business expertise to extend the Center's reach locally, regionally, and internationally; interact with members of the student body as well as faculty; lead efforts to acquire long-term funding for the Center; and serve as a withstanding bridge to the business community.
"It is an honor to have Mr. Gonzalez serving as the Chairman of the Board of Advisors for the Center for Leadership," said Modesto A. Maidique, president emeritus of FIU and executive director of the Center for Leadership. "His career and tremendous success in the multi-faceted business world will assist us in furthering the Center's mission and achieve global recognition for its leadership development, research, and training."
Prior to being the president of MGM Consulting, Mr. Gonzalez was Vice President, Global Operations, Procter & Gamble, and held leadership positions in marketing, sales, innovation and operations of P&G brands and business teams in the United States, Latin America, and internationally. He plays an active role in numerous civic organizations, including the Zoological Society of Florida where he is a member of the Board of Directors and Co-Chairman of the Board Services Committee and the Harvard Club of Miami, where he is on the Schools Committee. Mr. Gonzalez obtained his undergraduate degree from Cornell University and his graduate degree from Harvard University. Mr. Gonzalez has been appointed by the Secretary of Commerce to serve on the Industry Trade Advisory Committee for Consumer Goods (ITAC-4) and was also elected Vice-Chairman of ITAC-4 by fellow committee members.
Founded in 2005, the Center for Leadership recently received national recognition from Leadership Excellence Magazine in their 2012 Leadership 500 ranking. A part of the College of Business at FIU, the center provides leaders with the competencies that will positively transform their organizations and the society they impact. Their mission encompasses cutting-edge research in the area of leadership development, delivering innovative leadership programs and strengthening the leadership understanding of the community-at-large through workshops, seminars and events.
"Being elected as the Chairman of the Board of Advisors to such a highly respected and recognized organization as the FIU Center for Leadership is a wonderful opportunity." 
"I look forward to helping further the Center's goals and helping South Florida's business community as it transforms through continuously engaging in research projects, developing leadership programs, and providing leaders with the tools necessary to positively transform their organizations," added Manuel Gonzalez.