Learn and Prepare! How to lead through crises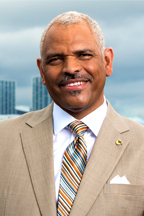 Arnold Donald, the smooth-steering CEO of Carnival, shares his leadership skills.
When Arnold Donald was appointed in July, 2013 as CEO of Carnival Corporation, the world's largest cruise ship operator, the company had been traveling through some rough waters including the 2012 wreck of the Costa Concordia, part of Carnival-owned Costa Cruises, and then fire disabling the Carnival Triumph the next year.
Mr. Donald, 59, has grabbed the proverbial tiller of the Doral-based company and is expertly bringing his own style of leadership to the company which boasts nine cruise lines of 101 ships that annually sail nearly 80 million passenger days at sea. His media savvy and camera presence have made him an excellent ambassador for the Carnival brand.
As the leader of a company in the travel industry, Mr. Donald is well aware that a major crisis can pop up anytime. The Center for Leadership asked him: can leaders prepare for a crisis?
"Of course they can," he says with conviction. "An excellent way is to learn from the past. No two situations are ever exactly the same, but looking to the past to learn what was successful -- and what was not so successful -- can help provide a framework for handling future issues."
Well aware of the intense coverage that cruise ship troubles receive from the media, Mr. Donald adds, "It's also important to prepare to be able to communicate effectively in a crisis situation, often when all the facts are yet unknown and emotions can be high."
It's critical for a leader to be honest and transparent at all times, he says, but that takes on even more importance when the unexpected happens. "It is a leader's job during a crisis to focus the organization's resources on doing the right things while keeping stability – whether that's for your employees, your stakeholders or your customers," he recommends. "One of the best ways to ensure stability is to keep people in the know so they're equipped to evaluate the situation and make informed decisions."
Begin by asking "What would success look like?"  
From the start, the employees of Carnival's brands, including Princess Cruise Lines, Holland America Line and Seabourn, the company's ultra-luxury cruise brand, have known a new kind of leader was at the helm. Soon after being on the job, Mr. Donald met with team members company-wide. His goal was to turn the corporate culture from one in which each brand operated with autonomy to one in which leaders across different groups cooperated to share best practices, gain efficiencies and grow revenue.
Mr. Donald's leadership style is driven by being "collaborative, analytical and questioning," he says.
"I try to understand issues and opportunities at a deeper level than most people are used to," he explains. "I'm a very analytical person. I've found that asking lots of questions is extremely helpful in handling various situations. Never jump to conclusions and don't be quick to jump to the obvious answers."
This skilled leader shares an effective technique he uses in meetings. "I begin discussions by asking what success would look like, both personally and professionally," Mr. Donald says. "Once we have the end goals in mind, we can then work together to determine how, step by step, that success can be achieved."
Mr. Donald places high importance on those around him. "I'm a firm believer that as a leader you don't have to know everything, but those around you might know just about everything," he points out. "So the trick is to ask the right questions and to listen."
Leadership long in the making
Mr. Donald has an excellent leadership background, including being the founder of Equal maker Merisant and a former Monsanto company executive. But you have to go even further back to find the beginnings of his leadership savvy, back to his youth in New Orleans during segregation.
"My parents didn't have the opportunity to finish high school themselves, but they placed a strong emphasis on the value of education, determination and old-fashioned hard work," he says.
His high school years had a lasting influence. "At St. Augustine, an all-boys Jesuit school in New Orleans, every day - multiple times a day – they would say over the intercom system, 'Gentleman, prepare yourselves, for one day you will be running the world!'" he recalls. "At St. Augustine, I began to believe and realize that anything might be possible if I had a plan and prepared myself. And from then on, I did just that."
Formation of his leadership style has happened as he witnesses others in top positions, including the poor examples. "I once had a boss who called me by the wrong name for close to a year," he says with a laugh. "That continued until I solved a significant client problem for the company at which point he got my name right every time thereafter."
He has seen stellar examples of leadership as well, including Micky Arison, who served as chairman and CEO of Carnival since 1979 before turning over the CEO job to Mr. Donald, who had served on the board at Carnival for a dozen years. "Micky's an excellent example of a good leader," Mr. Donald says. "He made it clear when I began that I was in charge, but that he would always be there when I needed him.  And he has done just that -- been available around the clock for guidance, which is invaluable."
It's clear that Mr. Donald is enjoying his leadership role in the travel industry. "My motivation comes from the work we do, in making a difference that can change people's lives," he says. "Most people work very hard to accumulate the time and money required to take a vacation, so we have a real responsibility to deliver to them the greatest vacation ever, in fact to even exceed their expectations."
He also enjoys spending time with his growing family. He's husband to Hazel for 40 years, father of three and grandfather of five -- with one more due in December.
Pursue your passion and dream big!
Mr. Donald shares tips for those wanting to have leadership roles. "Pursue your passion and dream big," he says emphatically. "Whatever you choose to do, there will always be challenges that go with it. But, if you are pursuing your passion, then those challenges seem a lot smaller than if you are pursuing something that you don't have a passion for."
It then comes as no surprise that when he's evaluating the leadership potential in others, he looks for those with passion. "That passion will help inspire others around them to do the same," he points out. "I also look for the person who builds up those around him or her. I look for those who are compassionate and quick to accept accountability for not only their successes, but also for their misses." 
We asked him to offer advice for already-established leaders. "Never forget to give back, to share, to mentor, to coach," he offers. "Stay humble. You are only a legend in your own mind. And never forget those who helped you get to where you are, both personally and professionally."