Alberto Ibargüen to be Honored at The Chapman Leadership Honors by the FIU Center for Leadership.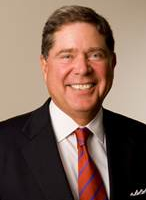 Event in memory of Alvah H. Chapman, Jr. pays tribute to executive with Transcendent Leader Award
Alberto Ibargüen will receive this year's Transcendent Leader Award presented by the Center for Leadership at Florida International University. He will be recognized at The Chapman Leadership Honors, an annual event named for Alvah H. Chapman, Jr., a businessman who championed arts, education and social causes that continue to benefit society.
Ibargüen is president and CEO of the John S. and James L. Knight Foundation, which supports transformational ideas that promote quality journalism, advance media innovation, engage communities and foster the arts . The Chapman Leadership Honors offers the opportunity to learn from Mr. Ibargüen firsthand as each year's honoree is asked to give the keynote address at the event which begins at 6:30 p.m. on October 3, 2013 at FIU's Graham Center Ballrooms, 11200 SW 8th Street, Miami, Fla. The event is free and open to the public, but seating will be limited. Registration is available online.
A former publisher of The Miami Herald and El Nuevo Herald, Ibargüen established himself as a dynamic leader in journalism and the South Florida community. He is a former chair of the World Wide Web Foundation and has served as a board member of PepsiCo, American Airlines, AOL and other prominent organizations with both local and national reach. Under Ibargüen's leadership Knight Foundation has supported the building of Miami's cultural core and continues to cultivate the city as a center for ideas and innovation.
Chapman, who ran newspapers in Georgia and Florida, eventually became publisher of The Miami Herald and later CEO and chairman of Knight Ridder, its parent company. 
The concept behind the event is the Center for Leadership's groundbreaking research in identifying characteristics that make for ethical and effective leadership. Ibargüen, who embodies Chapman's example of leadership by inspiring organizations and communities to engage in the issues that affect their community, is a deserving candidate to receive the Center's second annual Transcendent Leader Award.  
"Alberto Ibargüen has stood out as an innovative leader in the South Florida community for many years, and the Transcendent Leader Award shows our admiration for him," said Dr. Modesto Maidique, executive director of the FIU Center for Leadership. 
"His dedication to keeping the community informed about what is happening in our own backyard, in addition to the rest of the world, is evidence of his deeply rooted commitment to serving for a higher purpose."
This year The Chapman Leadership Honors will also recognize a new generation of leaders, ages 40 and younger, with the presentation of the Emerging Leader Award. Candidates will be recognized based on their work in providing innovative solutions to social and business challenges, as well as a strong focus on improving the quality of life in our community and state.
Founded in 2005, the nationally ranked Center for Leadership is widely recognized for its leadership research, development and training opportunities, providing leaders with the competencies necessary to positively transform their organizations and society. The Center's mission encompasses engaging cutting-edge research in leadership development, delivering innovative leadership programs and strengthening leadership understanding through executive development programs, leadership lectures and other events. Under the direction of Dr. Maidique, who served as president of FIU for 23 years, the Center's leadership development program alumni include organizational leaders from industries including health care, banking and finance, technology, retail, education, government and the military, with participants from across the United States, Latin America, the Caribbean, Canada, Europe and Africa.
For more information on the Center for Leadership at FIU, call 305.348.5323 or visit lead.fiu.edu.