Three Ingredients for Success: Chef Michelle Bernstein on Cooking, Life, and Leadership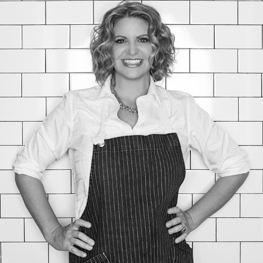 What's the recipe for success as a leader and entrepreneur? Chef Michelle Bernstein has sampled and taste-tested the ingredients before finding success in the kitchen. Today, "Chef Michy" is the winner of the James Beard Award and Iron Chef Competition, a Lexus Culinary Master who has consulted with Delta Airlines, Nespresso and Ruinart and heads culinary teams of major hotel-chains. Whether on television shows or the pages of her book, the restaurants she owns or kitchens she manages, Chef Michy balances motherhood, her career, and aspirations for continued success.
Bernstein will headline this season's Leadership Lectures series, "Beyond the Corner Office," presented by the Center for Leadership at Florida International University in partnership with Mercantil Bank.
The Center recently sat with Chef Bernstein asking her recipe for success.  Below are excerpts of that conversation:
---
CFL: You've said your food isn't "unnecessarily complicated." How does that apply to your business efforts?
MB: The true ingredients to success are drive, passion and an unending striving to achieve greatness.
It also means getting rid of the clutter and honing in on what you do best. There were many moments where I had clutter, whether in a dish, on a menu, or in my life. For the first 20 years of my career, I was never home for holiday dinners. At one point in my life, I had five restaurants, including one in Mexico. And I had a newborn. It was like wearing two hats and neither fit very well.
Then, about two years ago, I got sick. I was near death. I'd just lost my mother. I thought to myself, "You're not given a lot of chances in life." So I was given this second chance, I was able to take a step back and look at my life. I wanted to be more of a mom, and a better mom. I wanted to take the time to do what I really love to do, which is to teach, and to travel, to cook for people, but not necessarily schlepping in a kitchen for 12 hours a day. I get to pack a lunch for my son every day, to be able to sit with my family every day at dinner and talk about our day, do homework with my son, and be a good wife, and sister, and mother. It's still hectic, but now, it's so much more normal to me.
CFL: What leadership traits transfer well from the kitchen to the boardroom or front lines of the work environment?
MB: Knowing how to talk to people, being respectful, knowing when to just shut your mouth and listen and trying to be as consistent as humanly possible. I'm not abrasive, but I also don't have a filter. I kind of talk over people when I get excited. Not in a bad way, I just get excited about stuff. I can't change that. If they don't want who I really am, then it's not going to work. Because I am never going to sit in a room biting my tongue. I know I missed out on opportunities because I couldn't, or wouldn't conform. But I would rather be who I am, and not be a fake. I'm not made out of that kind of cloth.
CFL: Did you have a mentor who helped you navigate the business world?
MB: I had mentors in the kitchen that taught me about cuisine and expanded my palate, and most importantly, taught me what not to do in business. I worked with three chefs early in my career and I learned the style of manager I wanted to be—and not to be—. But I definitely learned to love food and respect it the way they did. I thank them for it.
CFL: Discuss one major obstacle, one leadership lesson that got you through it? 
MB: In my first chef position, my food cost spending was way out of control. I would only buy the freshest, most luxurious ingredients. I even once ordered live scallops from Scotland. When the owners asked me to calm spending and look into frozen seafood instead of fresh as an option, I lost my temper, in retrospect, I said things I probably shouldn't have said and quit as quickly as I possibly could. It was one of my favorite jobs I ever had, and if I could take it all back, listen to what the owner was really trying to tell me and come up with better solutions other than the obvious frozen fish, I might be an owner of that restaurant today.
CFL: You design specialized dietary options for oncology patients and teach underprivileged children healthy food options. Why is giving back important to you?
MB: Good chefs are generous. It's how we're built. It's the service industry; it's embedded in who we are. What we do constantly is give the gift of delicious food and for that simple task we are well rewarded. If I don't give back to my community and its people, I, in turn, would be a bad chef and not be doing my job. Nothing feels better than to give to people in need.
CFL: What takeaways might attendees at The Leadership Lectures expect to learn?
MB: I'm hoping to give enough examples of my mistakes and bloopers to touch as least one person in that crowd so that they won't do the same. I've taken a really long time to learn things I should have learned in my first 10 years of working. I wish I could have gone back and learned from more people, and been stronger in technique. I wish I would have learned more about business. I wish I would have learned that as a chef, if you want to own a restaurant you should really own property. I wish I would have done all of that before I did all the big stuff. I'd be a little more competent and a better teacher today.
CFL: What does leadership mean to Michelle Bernstein? 
MB:  It means commanding respect and having respect for others. Speaking the truth and knowing when to listen. Knowing when you're wrong and admitting to it. Being a good teacher, but more rounded. Not just teaching one thing, but being open to teaching your life lessons.
---
Register for the Lecture!
Michelle Bernstein will speak on October 11, 2018 at 9:30am (Doors open at 9:00am). The lecture will be held in the FIU Graham Center Ballrooms at the MMC Campus. Be among the first 50 people to arrive and you will receive a copy of Bernstein's book, "Cuisine À Latina: Fresh Tastes and a World of Flavors from Michy's Miami Kitchen." A reception and book signing to follow the Lecture.

About the Lectures Series
The Leadership Lectures series, "Beyond the Corner Office," is presented by The Center for Leadership at Florida International University and in partnership with Mercantil Bank. The Lectures feature world-class, accomplished and influential leaders with expertise ranging from business and philanthropy to public service and academic research. The Lectures provide the South Florida community with access to the expertise, advice and best practices of some the world's foremost leadership minds and are open to the general public at no cost. Registration is recommended to ensure seating.