Making the grade. FIU's Center for Leadership impacts MDCPS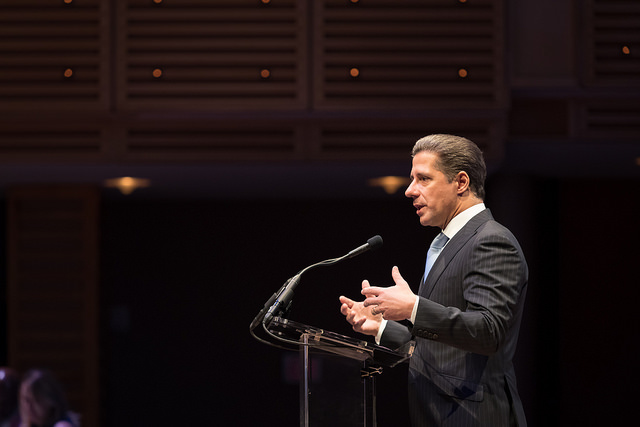 The FIU Center for Leadership's custom programs for Miami-Dade County Public Schools once again wins top ranking from HR.com and Leadership Excellence magazine.
When Alberto Carvalho arrived as Superintendent of Miami-Dade County Public Schools (MDCPS) in 2008, state education officials were threatening to close nine failing high schools. The District's graduation rate was below 60 percent, and the school system was on the brink of bankruptcy.
Among a host of initiatives Mr. Carvalho recommended to the School Board of Miami-Dade to correct the course of the nation's fourth largest school district was a partnership with the Center for Leadership at Florida International University.
First launched in 2010 with the support of the John S. and James L. Knight Foundation, the Center's custom leadership programming for MDCPS was designed using the latest leadership research and best practices from business practitioners. The curriculum was designed to improve leadership and organizational development skills for principals and administrators across the District. To date, more than 500 public school principals and administrators from across South Florida have participated in the Center's custom programs for MDCPS.
The district's turnaround has been nothing short of remarkable. By 2017, it had eliminated all F-rated district schools. Graduation rates now surpass 80 percent, an increase of more than 22 percent during Superintendent Carvalho's tenure. Despite federal and state education spending cuts, the District runs a balanced budget.
The Superintendent credits the District's success in part on its partnership with The Center at FIU, that in February won first place in the prestigious 2018 LEAD Awards for custom-content programming category from HR.com and Leadership Excellence Essentials magazine. This marked the third consecutive year that this program was top ranked by the magazine. And in October of 2017, The Center was also honored with the silver award from Chief Learning Officer for its custom program partnership with MDCPS
"Organizations thrive when they invest in the professional growth and development of their workforce," says Carvalho. "Miami-Dade County Public Schools has had a successful and long-standing partnership with the Center for Leadership at Florida International University. This partnership has been instrumental in providing our emerging leaders, both in schools and at the District, with the resources, tools and knowledge to artfully influence instructional design and lift student achievement."
Celebrating its 10th anniversary this year, the Center for Leadership continues to earn high praise from peers, partners, and especially alumni for its leadership training and development programs. Along with first place for the custom-content programming category, the Center took first-place in the LEAD 2018 Award's open-enrollment category, besting such schools as Carnegie Mellon, Stanford Graduate School of Business, the Wharton School of the University of Pennsylvania, Vanderbilt University, University of Chicago, Stanford Continuing Studies, and Harvard University.
Since the launch of its first program in 2007, more than 2,000 executive-level decision-makers across 170 organizations from around the world have participated in The Center's custom designed or open-enrollment programs.
"Our partnership with Miami-Dade County Public Schools has shown the impact leadership and organizational development programming can bring to employers seeking to drive performance," says Mayra Beers, Ph.D., Director for The Center and a Knight Research Fellow.
"We are proud to be one of the solutions Superintendent Carvalho implemented at the District to improve organizational performance and empower his leaders to help our students succeed."