Jono De Leon with Guitars Over Guns Named Winner of The 2021 Emerging Leader Award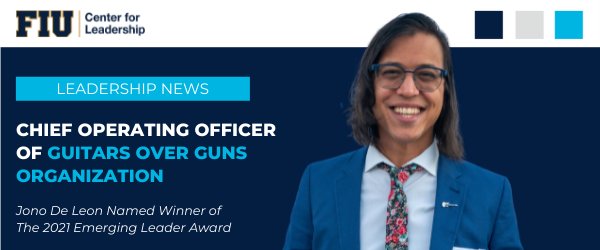 From a young age, music, social service, and education were key notes in Jono De Leon's life. So it made sense that as an adult, he'd find a way to compose a life that incorporated all three to serve those around him. Today, his work with Guitars Over Guns provides youth living in challenging environments a collaborative and creative outlet, lasting mentorship, and a path away from the violence of the streets.
The Center for Leadership at Florida International University is proud to announce Jono De Leon, Chief Operating Officer of Guitars Over Guns, as the recipient of the 2021 Emerging Leader Award.
Join us for the virtual Emerging Leader Lecture where Jono De Leon will receive his award and share his story and how Guitars Over Guns leverages music and mentorship to create experiences and outcomes in the most vulnerable communities, at an event in his honor on February 24, 2022 at 10:00am ET. Click here to register.
"Jono De Leon shows how one's creativity, passion for serving the community and sharp business skills can innovate industry sectors, like education, to elevate the lives of others," said Dr. Nathan J. Hiller, Executive Director of the Center for Leadership at FIU. "His life's work struck a positive chord with the Emerging Leaders review panel for how he's truly changing the lives of at-risk youth throughout the community."
Growing up in New Jersey, De Leon's mother led efforts related to spinal cord injury prevention and awareness. His father, who came from the Philippines to America for business school, imbued young Jono with a love for music, especially The Beatles.
"I sang [Paul McCartney's] parts by the time I was 5," said De Leon, who went on to play guitar throughout high school and college. 
In college, De Leon, now 36, studied to be a history teacher and worked in the suburbs of affluent Princeton, New Jersey. He was "absolutely" on track to teach that demographic. Yet, the dichotomies that faced privileged versus at-risk youth changed De Leon.
"I couldn't come to terms with the vastness of that disparity," he recalled.
De Leon applied and earned a spot with Teach for America. Confident by nature, De Leon insisted on Miami, which at the time was suffering a severe teacher shortage. On his first day as a teacher with North Miami Middle School, he was handed a schedule with eight different subjects for students from sixth to eighth grade. 
Other first-time teachers might have shrugged and headed to their classrooms. De Leon, instead, told the principal the rigorous schedule wouldn't accommodate his vision for his classroom.
"I learned an important lesson early on, if I was willing to show my principals that I would put in the work, I would be given leeway to try things," he recalled.
On his first day, De Leon noticed a guitar in the classroom of fellow teacher, Collin Moneymaker. The two soon created a guitar club at the school. De Leon fundraised $1,000 and bought six guitars, cases, and stands. That's how many students he imagined would sign up.
"Sixty came out to the first meeting," he recalled. "Those kids showed up and kept showing up."
A club wasn't enough. De Leon wanted students to earn credit for the program. He looked into Miami-Dade County Public Schools rules and found a course code for a guitar program. If he earned a certificate in K-12 music, the guitar program could become an accredited course. By his second year at the school, he was teaching guitar two periods a day.
Recognized for his willingness to break the mold, De Leon was nominated by a fellow teacher and mentor to become the school's activities and athletics director. That stint gave De Leon "an education in trying to make stuff happen within the school community, budgets, and school politics," he said.
When the University of Miami in 2010 launched what is now its Community and Social Change master's program, De Leon applied and was in the first cohort. He discovered the impact of educational leaders globally and the history of school reform - and the politics that affect it. Combined with his own experience, De Leon knew he could apply what he learned to a wider community.
De Leon was accepted as a fellow in what has become Miami's Next Leaders program, which hones leaders in progressive values. His capstone explored how to turn his success with the guitar program at North Miami Middle School into a city-wide effort. 
De Leon soon met UM music doctoral student Chad Bernstein, who was working on a thesis of introducing musician mentors to at-risk students. When Bernstein's Afro Latin funk band, ¡Suénalo!, performed in front of teens in a juvenile detention facility, and the kids were engaged, "that was the thought behind Guitars Over Guns." 
De Leon soon joined the fledgling organization, first as a guitar mentor, and then as site coordinator and director of education. His was the first classroom Guitars Over Guns worked in; he soon was helping find teachers in participating schools. Because of his understanding of classroom management, students' after-school needs, and working with parents, De Leon was able to help the group collaborate with the community and navigate the system. He joined full time in 2015.
Since then, he's helped elevate the organization's programs, outreach, and impact on youth. Bernstein calls De Leon's influence on Guitars Over Guns the "before Jono" and "after Jono" period, with long days and all-nighters spent tuning the organization's path and results.
"His only concern is what the impact will be. He has a wicked ability to take a very big, ambitious vision and turn it into something that's going to change lives," Bernstein said. "The hardest thing to glean from an article is just how good of a person Jono is. He's been a powerful thought partner and brother to me throughout this process."
With a budget of $3 million, 17 full-time staff and more than 80 mentors and in-school coordinators, the program each year works with more than 1,000 youth aged 11 to 18 in Miami and Chicago. Students meld their different tastes and talents, with some rapping, singing, playing instruments, writing songs, or recording or performing their creations, all under the guidance of their musician mentors. Every spring, they record a video of a song they've selected. Their moving rendition of "Glory" by John Legend, Common & Rhymefest has almost 3,000 views on YouTube.
"Through accountability, teamwork and emotions management, kids can experience success, set goals for themselves, and be celebrated among their peers," De Leon said. "It's a really protected environment setting them up for bigger and bigger stages."
During Covid, mentors maintained contact with each of the students, even delivering instruments to their homes so they could stay on track. When asked, the mentors even will sit in on parent-teacher conferences.
Research proves the model is working. Some 90% of their students maintain their grades, even during Covid. Some 93% of students said the program made them more confident in taking healthy risks, 94% credited their mentors for their success, and 96% said they achieved goals.
"Those are some of the social and emotional benchmarks we care about," De Leon said.
Of the Emerging Leader award, De Leon said it is both "incredibly humbling and inspiring to be in the company of change makers who are so dedicated to improving our city and our world. As someone who came to this city focused on how to use my classroom to create better opportunities for kids and to see that grow from teaching seven periods a day to now serving more than 1,000 youth and empowering all these leaders in our organization, it means that I'm in the right place, that I'm one of the people lucky enough to have the opportunity to work and live on purpose. And that's not something I take for granted."
Missed the lecture?
Watch Jono De Leon's full Emerging Leader Lecture on our archived events page. 
Previous recipients include Brandon Okpalobi (2020), founder, president, and CEO of DIBIA Athletic Development and Dibia DREAM; Meena Jagannath (2019), a social justice lawyer and international human rights advocate; Michelle Abbs (2018), an entrepreneurial leader and women-run startup proponent; Matthew Anderson (2017), a Miami community activist; Vance Aloupis (2015), a child welfare advocate; and Dr. Susan Amat (2013), a seasoned entrepreneur.