"Global Leader or Cultural Outsider?" Wins 2019 Alvah H. Chapman Jr. Outstanding Dissertation Award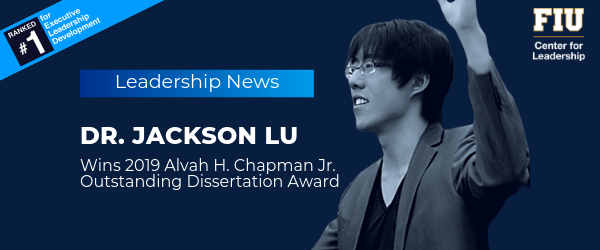 Can your international work experience hurt you as a leader? Social media posts such as "How Living Abroad Prepares You for Leadership" assumes so. Yet Dr. Jackson G. Lu found the answer depends on whether it is about leadership effectiveness or leadership selection.
His work into globalization and leadership earned Dr. Lu, a researcher of culture and globalization and an assistant professor of Work and Organization Studies at the MIT Sloan School of Management, the 2019 Alvah H. Chapman Jr. Outstanding Dissertation Award presented by the Center for Leadership at FIU.
Established in partnership with the Network of Leadership Scholars (NLS), the award honors an individual whose dissertation makes an outstanding contribution to the field of leadership. Dr. Lu will present his findings at the Leadership Research Colloquium in Spring 2020. The award also includes a $3,000 cash prize.
Dr. Lu's dissertation was entitled "Global Leader or Cultural Outsider? The Divergent Effects of International Experiences on Leadership Effectiveness vs. Leadership Selection." Drawing upon prior research, Dr. Lu theorized that international experiences can increase an individual's leadership effectiveness. He termed this "The Global Leader Effect." One example is Arsène Wenger, former manager of the English Premier League soccer team Arsenal.
Born in France, Arsène managed teams in Japan and elsewhere before beginning his successful 22-year career with Arsenal. He led Arsenal's roster consisting of players of up to 11 nationalities to a host of trophies and league records.
In one study, Dr. Lu collected all 25 years of data of the English Premier League, and found that soccer managers with broader international experiences were more effective at leading teams, especially for teams with a more multinational roster.
At the same time, however, Dr. Lu theorized that time spent abroad can decrease an individual's embrace by national in-group members. He termed this "The Cultural Outsider Effect." An example is former President Barack Obama. Obama lived in Indonesia for four years and learned "Indonesia's language, its customs, and its legends," Dr. Lu quoted. Scholars note how this international experience prepared Obama to become a global leader. However, Obama has also had his national identity questioned.
To understand this cultural outsider effect, in one study Dr. Lu examined a cohort of MBA students. He found that the longer a person had lived abroad, the less likely he or she was selected as a leader by national in-group members because they perceived him or her to be less similar to themselves.
"In other words, the same international experiences that make an individual a global leader may also render him or her a cultural outsider in the eyes of national in-group members," Dr. Lu wrote.
As globalization rises, individuals and organizations increasingly value and invest in international experiences. This research suggests that although international experiences are valuable, individuals and organizations should be mindful of the potential downsides. The repatriation challenge is not simply a personal matter of the repatriates, but rather an interpersonal process that may require organization-based solutions, Dr. Lu wrote.
How can organizations help with the repatriation process? Firms like PwC host cocktail parties and provide repatriates with mentors to help re-assimilate them into the environment, he said.
"Global experience changes the individual, but Dr. Lu's research reveals how it also shapes how others perceive repatriates and their ability to lead," said Dr. Nathan Hiller, academic director for the Center for Leadership.
"Dr. Lu's dissertation research is yet another reminder of the fact that being given a chance to lead by others is a delicate process," Dr. Hiller said. "By understanding the naturally occurring flaws in our mental processes, we can educate ourselves and others so that we avoid falling into perception traps, and thus help teams and organizations maximize their leadership. 
Dr. Lu, who at 29 was named one of the World's 40 Best Business School Professors Under 40 by Poets & Quants, believes more work is to be done to explore this important area. 
"I am humbled and honored to receive the Alvah H. Chapman Jr. Outstanding Dissertation Award," he said. "I hope it can stimulate further research on leadership, culture, and diversity in an era of globalization."