Dibia DREAM Founder Brandon Okpalobi Named Winner of The 2020 Emerging Leader Award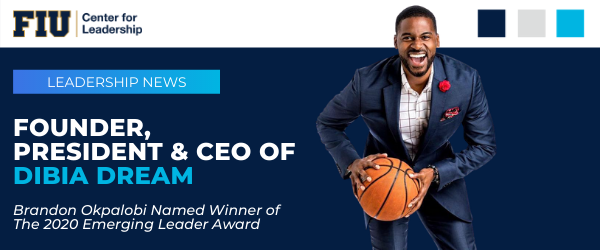 Brandon Okpalobi struggled in 2nd grade and was transferred to a creative arts school that used arts and his inquisitive mind to straighten his path. He flourished in high school to receive an academic scholarship to the University of Miami. Upon graduation, he committed to helping other students and student-athletes on their life journey. He found his purpose and passion when he launched Dibia DREAM, which provides STEM education, financial literacy, life skills, scholarships - and hope to at-risk students and their families.
The Center for Leadership at Florida International University is proud to announce Brandon Okpalobi, founder, president and CEO of DIBIA Athletic Development and Dibia DREAM, as the recipient of The 2020 Emerging Leader Award.
"Millions of youth face a widening opportunity gap in America, hindering them from having equal access to reach their full potential. Through Dibia DREAM programs, young people will gain invaluable access to STEM learning opportunities supporting the organization's efforts to eliminate the opportunity gap and create better, brighter futures for all youth today,"
said Brandon Azuka DIBIA Okpalobi, 38, whose name in Nigerian Igbo means "master of wisdom and knowledge."
"Today, our efforts are even more important due to the continued impact of the pandemic, digital divide, and widening opportunity gap affecting the young we serve. This award gives us a platform to speak on these concerns and also partner with more like-minded people to help us address these issues," he said. "This award allows me to take a step back, appreciate all the work we have done and also reflect on our impact during these times. I'm honored and humbled to be recognized amongst other great leaders in the community." 

The Emerging Leader Award honors South Florida's successful, next-generation leaders under the age of 40 and awards a $1000 cash prize to further their work in the community. Okpalobi was chosen from among 14 nominations and 5 finalists.
"Brandon doesn't let grass grow under his feet – he's always moving," said Dr. Nathan J. Hiller, executive director of the Center for Leadership at FIU.
"But importantly, he's not just moving – he's moving AND truly leading by creating change and opportunity for individuals in our community and even outside of Florida. We're thrilled to be honoring him as this year's recipient of The Emerging Leader Award."
Born in New Orleans, in 2000, Okpalobi enrolled in the University of Miami. He walked onto the basketball team, eventually earning a scholarship and being named team captain his senior year. He graduated with a degree in computer information systems.
Out of college, he worked with the Orange Bowl Committee, Deloitte & Touche LLP, The Miami Heat, and the University of Miami. He soon realized grade school and college athletes lacked sports and life enrichment skills to prepare them "for the most advanced level of play on the court, field, and in life," he said.
In 2011, he founded DIBIA Athletic Development; a for-profit company that promotes excellence through athletics and teaches athletes "the business side of sports."

Hoping to introduce young minds to STEM (science, technology, engineering, and math), in 2015 he started the Dibia DREAM which sparks social change through STEM programming that directly impacts the lives of youth (ages 7-16) and families – many of which are from economically disadvantaged and at-risk communities. Dibia DREAM creates opportunities that are generally only available to these students' more affluent peers. Participants develop skills that drive them to academic success, promising careers (particularly in STEM), and healthy lives. Guided by five pillars, STEM, financial literacy, health and wellness, mentorship, and sports, the after-school program helps youth with at life.
In 2019, DREAM, now a comprehensive hybrid organization, engaged with over 5,000 youth in Miami, Homestead, New Orleans, Atlanta, and Nigeria, and has plans to launch in Bermuda by year-end. It has also served over 36,000 meals to students and families and has provided six college scholarships. The program has grown during COVID-19, working with partners to provide services, technology hardware and internet access, even food vouchers. He eventually hopes to have academic, life enrichment, and STEM programs in all 50 states.
"Those who know the obstacles faced by South Florida's urban youth realize the importance of Brandon's programs," said Rashad D. Thomas, special assistant to the deputy mayor of Miami-Dade County.
"To see Brandon bring these resources where the kids and the parents are excited, this gets the community involved," said Thomas, who nominated Okpalobi for the Emerging Leader Award. "Thanks to Brandon, these kids can see a bright future."
Join us for this lecture
Join us for the virtual Emerging Leader Lecture where Brandon Okpalobi will receive his award and share his story and advice for other leaders at an event in his honor on January 21, 2021 at 10:00am EST via Zoom.
Previous recipients include Meena Jagannath (2019), a social justice lawyer and international human rights advocate; Michelle Abbs (2018), an entrepreneurial leader and women-run startup proponent; Matthew Anderson (2017), a Miami community activist; Vance Aloupis (2015), a child welfare advocate; and Dr. Susan Amat (2013), a seasoned entrepreneur.