Bridging cultures, delivering results
Raul X. Palacios had 20 years of experience as an executive working throughout Latin America when he took a new position heading the Miami office of Daikin Applied, a global corporation that designs, manufactures and sells heating, ventilation and air conditioning (HVAC) products for commercial buildings. Yet working with a U.S. team as they serviced American customers presented Raul with a bit of culture shock.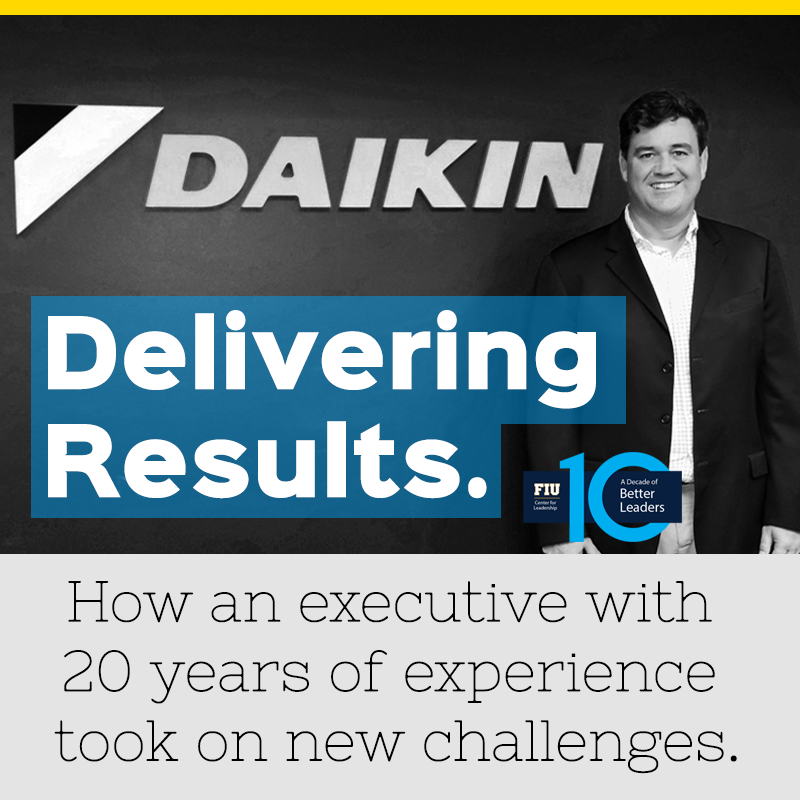 "Previous teams had worked on their own with a lack of teamwork and communication across business segments and departments. So it was my role to lead this team, develop a more collaborative culture and become one single Daikin," says Palacios, who today is the general manager for Daikin's Miami office. "I understood how to deal with Latin cultures, but communication, making sure my message was received correctly by my team, was a challenge."
So Palacios' boss suggested he enroll in The High-Impact Leadership executive development program at the Center for Leadership at Florida International University.
In its ten years of delivering programs, The Center has welcomed over 1,900 executives from more than 170 organizations, including for-profits, non-profits and government. Working with participants from several continents and throughout the Americas, instructors and executive coaches are well-versed in helping bridge cultural challenges executives may face, says Dr. Nathan J. Hiller, academic director for the Center for Leadership.
"Not every leader's needs are identical, especially for those who come from other countries or cultures," says Dr. Hiller. "That's why each program allows for attentional customization to really hone in on what your specific needs are through executive coaching, individualized feedback, and customized individual action plans. Working together we help participants make small tweaks that can bridge cultural differences to have a huge impact."
Center programs also incorporate personal self-assessment tools; the feedback, Palacios admits, was "both reassuring and shocking."  He learned his strengths such as strong leadership, as well as weaknesses that include his need to improve his communication skills in this new culture and to be more patient with others to let them find their own ways to achieve the goals he sets "without imposing my ideas or doing it my way," he recalls.
During the course of his week spent with The Center, sessions focused on his individual assessment results, strengthening Palacios' understanding of strategic leadership and showing how presenting a clear, consistent message will help "people align and get where you want to be," he says.
"This is something I try to practice every day," he says. "I take weekends to reassess what we're trying to accomplish. As weeks, months, and quarters go by, what can we do to help the team and help the customers be happy, which is the final goal."
Another takeaway was a deeper relationship with his boss, Palacios recalls. With his boss and another coworker also enrolled in the course, Palacios could have felt intimidated. Instead, coaches helped the three grow comfortable expressing themselves to each other and among coworkers.
"At the end of the day, it was a unique opportunity to let my boss - of only one year - know more about me and for me to learn more about him," he says. "We got the equivalent of two or three more years of knowing each other by doing that one program."
The Center for Leadership faculty and staff are dedicated to exploring leadership thought and practice through continuous research, providing opportunities for leaders to develop keen self-insight, and teaching leadership competencies. Together, these equip participants to meaningfully transform their organizations and their societies. In February of 2018, The Center was, for the fifth consecutive year, top ranked for their executive leadership programs by HR.com and Leadership Excellence magazine.
To learn more about The Center's award-winning executive leadership development programs, visit lead.fiu.edu/programs.