Bringing the voice of justice to the under-served Meena Jagannath wins the 2019 Emerging Leader Award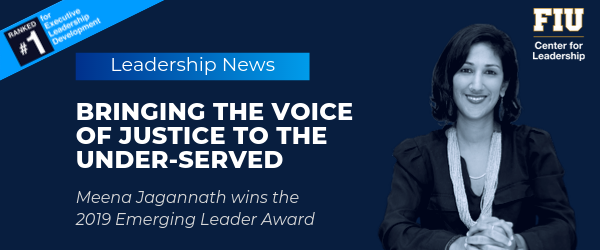 Meena Jagannath has combined her skills as a social justice lawyer, an international human rights advocate, and a community activist in South Florida with her belief in the power of cultural engagement to help thousands of people across Miami and the world.
For her efforts, Jagannath has been named the recipient of the Center for Leadership at FIU's 2019 Emerging Leader Award.
"It really is for me an honor to receive this award in this particular moment," said Jagannath, co-founder of the Community Justice Project. "The award validates that the efforts we are doing to confront inequities and inequalities are important and are seen as addressing some of the imperatives we have as a community."
The Emerging Leader Award honors South Florida's successful, next-generation leaders under the age of 40. Jagannath was chosen from among 25 nominations and seven finalists.
"Meena protects the underserved, advocates for change among the established powers, encourages others to engage in her mission, and educates all to encourage discourse and elevate their respective causes" said Nathan Hiller, Ph.D., academic director of the Center for Leadership. "Meena was among an exemplary cadre of finalists this year. Her mission is bringing real and ongoing change to our community."
Jagannath's founding of the Community Justice Project in 2015 was only one point along a lengthy continuum of social activism. Prior to founding CJP, she worked for the Bureau des Avocats Internationaux in Port-au-Prince, Haiti, helping coordinate the Rape Accountability and Prevention Project that combined legal representation with advocacy and built grassroots women's groups.
In Guatemala, Jagannath, who was a William H. Gates Public Service Law Scholar at University of Washington Law School, interviewed victims and witnesses of human rights atrocities. She also holds a Master's degree in International Affairs with a human rights concentration from the School of International and Public Affairs at Columbia University, and a B.A. in International Relations and Peace, and Justice Studies from Tufts University.
So when the New York-born child of Indian immigrants arrived in Miami in 2012, she was prepared to use her knowledge of human rights law and her legal skills to educate and empower low-income communities of color in and beyond South Florida. Among a host of other efforts, Jagannath represents the Miami taxi drivers' organization, New Vision Driver Association, both in litigation and in advocacy. She assists a Little Haiti organization, FANM, and others in advocacy to lessen the impacts development encroaching on their community. 
After the killing of Trayvon Martin in Central Florida and Mike Brown, Jr. who was killed in Ferguson, Missouri, Jagannath assisted local organizers to gain access to international forums and led a local delegations to the United Nations to advocate for U.S.-based human rights issues.
Knowing many of these communities feel they have no voice, Jagannath couples her legal advocacy with cultural engagement to encourage the silent to speak up and communities to engage with one another. She organized and obtained funding for a series of community salons inspired by the Harlem Renaissance intended to encourage robust exchange and intellectual stimulation. Her "Poetry for the People" workshop series tackles state violence by providing space where those who find themselves silenced or ignored can reclaim their narratives through poetry. 
"Sometimes it feels like nobody recognizes the work we're doing and things will never change. But receiving this award makes me think there is an appetite to look at our most significant challenges in the eye and ask what we really want to tackle," she said.
"When we face up to the uneasy truths, we then think about the bold solutions on the other side."
Join us for this lecture
Join us as Meena Jagannath will receive her award, and present a lecture at an event in her honor to be held on Tuesday, October 29, 2019, at FIU's main campus.
Previous recipients include Michelle Abbs, director of Miami WIN Lab for Babson College; Matthew Anderson, a Miami native and community activist; Vance Aloupis, CEO of The Children's Movement of Florida; and Dr. Susan Amat, founder of Venture Hive.