Blending Power & Warmth for Impactful Leadership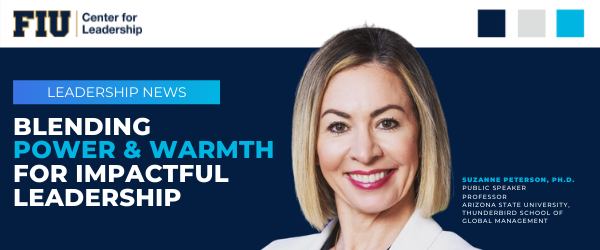 Former Supreme Court Justice Ruth Bader Ginsburg was known for her ability to "disagree agreeably." She chose battles wisely, used warmth and approachability to forge alliances, even built unlikely friendships with conservative justices. In her workplace and beyond its walls, Justice Bader Ginsburg's style earned respect from friends and foes alike.
Is your leadership style equal parts kindness and strength?
Meet Dr. Suzanne Peterson, an executive coach, consultant and researcher, and a professor with Arizona State University's Thunderbird School of Global Management, where she teaches courses on high-impact leadership. Her recent article in Harvard Business Review explores how leaders can more effectively blend and balance leadership markers of power and attractiveness to the benefit of their careers and team mission.
"Research shows that one's style is a significant differentiating factor in the reputation and career success of leaders," wrote Dr. Peterson.
"Style is different from personality. You can intentionally alter your style to integrate powerful and attractive markers in everyday interactions. By creating a blended style, a leader can change how you are perceived, making you powerful enough to be heard and attractive enough to be followed."
Dr. Peterson shows how awareness of such "intangibles" can bolster a leader's tool kit and advance them along their leadership track, said Nathan J. Hiller, Ph.D., Executive Director of the Center for Leadership at FIU.
"The need to balance power and warmth often goes unrecognized by professionals on the rise and the bosses who sense something is missing but who are hard-pressed to identify it," Dr. Hiller said. "Dr. Peterson's research reveals that the combination of power and attractiveness, or gravitas and guidance, need not be conflicting."
The solution is to balance these power markers such as attractiveness markers such as agreeableness, approachability and likability but also, diffidence, lack of confidence and submissiveness. 
"The more consistently we express ourselves using the same markers, the more distinctive our style becomes," wrote Dr. Peterson, who has advised senior leaders at technology, banking, insurance and retail firms such as Google, Dell, JP Morgan/Chase, Black Rock, Tory Burch, McDonalds, Estee Lauder, USAA and State Farm, among others. "Change the frequency or mix of these markers, and others' impressions also change." 
Being "nice" and "strong" can coexist. As Justice Bader Ginsburg once wrote, "reacting in anger or annoyance will not advance one's ability to persuade."
You can find the full Suzanne Peterson Leadership Lecture, "Blending Power & Warmth for Impactful Leadership" on our archived events page.
About the Leadership Lectures
The Leadership Lectures feature world-class, accomplished and influential leaders with expertise ranging from business and philanthropy to public service and academic research. Through the Lectures we hope to inspire thought-provoking dialogue within the community by providing access to the expertise, advice and best practices of some of the world's foremost leadership minds. As such, the attendance to the lectures are free and open to the public.