Reinventing Yourself to Find the Perfect You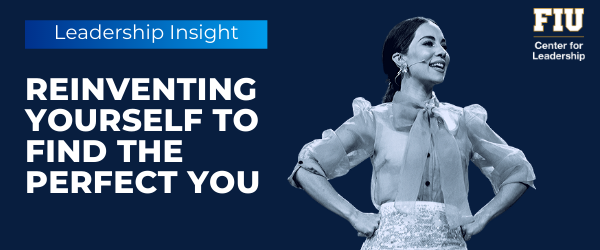 Mariana Atencio's life and career have been fraught with sadness, challenges – and opportunities. Yet, rather than taint her outlook, they have fueled her commitment to create a model she hopes to share with others.
As a teen in Venezuela – a place she says once was "filled with magic and wonder" – Atencio saw her homeland disintegrate. Violence would take her childhood sweetheart. Brutal authoritarianism left, Atencio, a student journalist at the time, teargassed. Even more than a decade later, the pain continued when the ongoing economic crisis saw her father die of a treatable illness.
After arriving in the U.S., Atencio earned her master's degree in journalism from Columbia University – only to fear deportation after losing her job.
Undeterred, Atencio forged ahead. She landed at Fusion TV, then Univision, and eventually crossed over from Spanish- to English-language television with NBC and MSNBC. Atencio soon earned a reputation as an enterprising reporter keen to tackle the tough stories, like hurricanes, a then 7.1-magnitude Mexico City earthquake, and a mass church shooting – all in three months.
More than a reporter, Atencio also earned a reputation for being a voice for the victims. Then, at the top of her game, the Peabody, IRE, and Gracie award-winning journalist gave it up.
In 2017, Atencio presented a TEDx talk called "What Makes You Special?" which has been viewed more than 11 million times. Last fall, she published "Perfectly You: Embracing the Power of Being Real," the "part memoir, part self-help" book which quickly became an Amazon #1 best seller for Latino biographies.
Buoyed by these successes, in January Atencio tendered her resignation from NBC.
What she had discovered was that each personal loss she endured and crisis she covered moved Atencio along her own personal journey, which she hopes will include naturalization this year. Backed by her Coral Gables production company, GoLike, Atencio's goal now is to become the bilingual, crossover "LatinX" storyteller and ambassador, humanizing the tales of the voiceless – and encouraging others to tell their own stories.
In this recent interview with the Center for Leadership at Florida International University, Atencio discusses her journey.
Q: What do you hope attendees will learn?
MA: I could have been a journalist for the rest of my life, but I am at an inflection point and I need to see where this takes me. Speaking as part of the Lecture Series hosted by the Center for Leadership will be the first time that I am speaking before a large audience about the pivot, about asking yourself, "I have everything that people say should make me happy and successful. But what do I want for my life?"
The students, professors, and leaders at FIU who will be there may learn a lot from that in terms of asking themselves, "what is the next great chapter of my life?" That is something that all of us experience at different moments and it is about how do I transform this inflection point into an opportunity to change the trajectory and lead me where I want to go?
Q: How do we find that unique, that authentic voice?
MA: The first step is understanding and celebrating the ingredients to your secret sauce. What makes you special when you ask people that question? Whether you are a college student, or you have been working for a long time, we spend so much of our time analyzing product and results, but we do not spend any time analyzing the original "magic trick," as I call it, the secret sauce that we bring to the table. The second thing to do is look at the list of things that other people have labeled as negative, but that makes you special. In my case, it was Spanish as my first language, not being an American citizen, or not having a green card. I would ask the audience to see how they can flip the script on those "negatives" and turn them into competitive advantages. It is not about eliminating a traumatic experience that you've gone through. The loss of my father, for example. It is, how can I use that experience as a competitive advantage as a storyteller to connect with other people?
Q: What came first – journalism or storytelling?
MA: I have always loved communicating, writing, and public speaking. When I was growing up, my mom used to say that all I wanted was a curtain so I could jump out from the other side. But journalism really came to the forefront for me as a college student when the Venezuelan government was becoming increasingly authoritarian. They started shutting down independent media outlets and in 2007, they shut down RCTV, which was the equivalent of turning off CNN or NBC from one day to the next. I was a college student in the school of communication and we started protesting in the streets every day. We rallied the whole country. The government opened up the water cannons on us and threw tear gas at us. That is when I said to myself, "This is a cause that I really believe is central to democracy. Everybody must have a voice."
Q: Did you always want to practice "advocacy" journalism?
MA: I always wanted to tell under-reported stories of people that I didn't see in mainstream media because I come from a place that's often labeled third world or aliens. You do not see us represented on television and other outlets. I knew coming from a place like Venezuela and being an immigrant, which I will always be in this country, I wanted to tell those stories. However, I'm a storyteller through and through. I have covered some of the most important stories in the past decade. I always want to put myself in other people's shoes and bring the audience along on the journey for viewers to make up their own minds. You have to be passionate and fully immersed in the stories that you are telling. Objectivity and compassion go hand in hand. The era of the cold reporter that does not express any feelings is long gone.
I think you have to really communicate what the person you are interviewing or the situation that you are in, what the emotions are, what is happening there for the viewer to react to what you're telling them. So I wear my heart on my sleeve. It is what is needed nowadays to make the audience care.
I pushed to tell the stories of my community when I walked into the NBC news newsroom, especially on MSNBC being the only Latina national correspondent. I walked there fully aware of the responsibility I had to bring the stories of my community to the forefront. That meant in every single editorial meeting, every single phone call and every single pitch pushing to get those stories that weren't being told out there. When the devastating earthquake in 2017 hit Mexico city, I pushed the executives at MSNBC and NBC news to send me down there. Once I'm down there making it worth their while by doing absolutely everything I can to tell the story the way it's meant to be told. Viewers were watching a parent bawling as they're seeing whether the child is being pulled from the rubble or not. I believe in giving them a hug live on national television and telling them, "Thank you for sharing what is possibly the worst day of your life with us and with our audience." In this time of division, that is how we build bridges of understanding.
Q: Was publishing your book part of your bigger purpose?
MA: Absolutely. That is what gives me the ultimate fulfillment and makes me light up. It is what makes me get up at three in the morning to work and what made me write a book in the middle of hurricanes and midterm elections. I was so passionate about getting the message out there.
You don't have to be perfect. You just have to be perfectly you – you have to be yourself.
When I think about my purpose now, it's not about making money. It's when I walk into a bookstore and little girls look at the cover of my book then ask me if I'm the girl on the cover and if they too can be on the cover of a book. My purpose is telling them they can be on the cover of a book or be a film executive, a U.S. Senator or even the President of the United States.
---
About the writer

South Florida native Jeff Zbar has enjoyed a 30-plus year freelance career as a journalist, editor, author, and marketing copywriter. His portfolio of print and digital work appears in media outlets and for corporate clients across all areas of business and industry.