The Center Wins Chief Learning Officer Award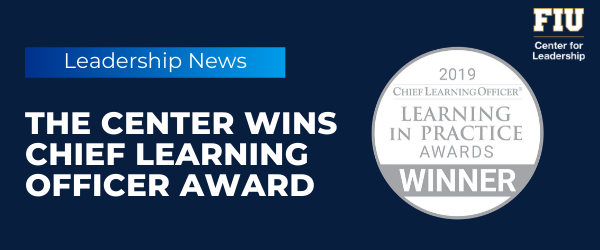 The Center for Leadership at Florida International University has again been recognized for their outstanding leadership development programs, this time receiving the Silver Award from the Chief Learning Officer Group for their work with the Daikin companies in North America, part of Daikin Industries, Ltd., the world's number one air conditioning company.
The award-winning program, developed for and in conjunction with the rapidly-growing heating and cooling manufacturer, was part of a year-long executive development initiative designed to build strategic capacity, drive leadership development, and energize the entire organization.
The category of this win – Academic Partnerships – recognizes accredited academic learning institutions that have partnered with an organization to develop skills, competency or knowledge in an employee population. The Center's custom-designed program targeted both universal aspects of leadership and Daikin Applied's specific leadership needs.
"This isn't about case studies of historical figures. Our secret sauce is a focus on action and behavioral change which can be implemented immediately," said Dr. Nathan J. Hiller, academic director of The Center.
"We focus on helping participants discover how to bring new skills, ideas, and insights to their unique leadership situation immediately upon their return to work. This focus on individuals and small behavioral adjustments is different – and why we have received 10 top 3 awards in just the last 5 years."
About the Partnership
Daikin Applied Americas enrolled 18 senior-level executives all one level below the top leadership team. The program focused on creating a system for the executives to enhance their own leadership skills through instruction, assessments, one-on-one coaching, and personalized action plans. The program was developed between Daikin's learning and development team in the U.S. and abroad, and The Center's leadership faculty and staff.
This collaboration created a rigorous development program with sessions led by seven different subject matter experts and Daikin leadership. After the four-day program with The Center, administrators then returned to the company's Minneapolis offices to share their learning and expand the impact on their divisions and the overall organization.
"We know that our company only grows when our people grow," said CEO of Daikin Applied Americas, Mike Schwartz. "Our philosophy of 'people-centered management' aims to strengthen and raise the capabilities of our organization by helping each individual grow their potential. This collaborative program helped us create and develop a network of leaders across our American divisions. It's a critical initiative as this team will lead Daikin's next generation of growth."  
The Outcome
The results were noteworthy: Some 94% of participants rated the overall program "very good" or "excellent." All agreed or strongly agreed that participating in the custom-designed leadership development program will help them become better leaders for Daikin.
Six months after completing the program, four out of the eighteen participants have been promoted or have expanded their breath of control, highlighting the value placed on the program by senior management and the positive impact their participation played in their performance since.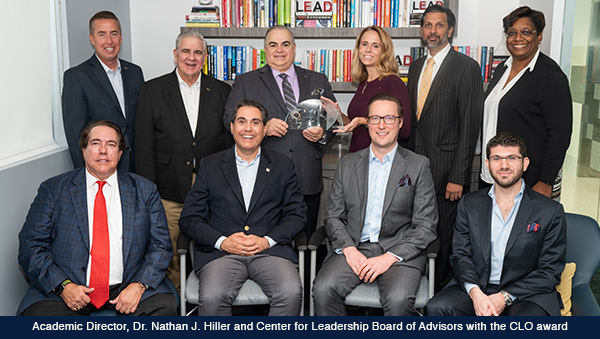 About Daikin Industries
Daikin Industries, Ltd., is a Forbes Global 2000 company with more than 70,000 employees worldwide and is recognized as one of the largest HVAC manufacturers in the world. Based in Osaka, Japan, Daikin manufactures leading solutions for residential, commercial and industrial applications across all vertical markets. With more than 90 years of operation, Daikin has sold millions of systems in over 150 countries. Daikin operates several divisions in North America, including the residential and light commercial division Daikin North America, the commercial and industrial division Daikin Applied Americas, the chemicals division Daikin America, and the air filtration company, AAF Flanders. In 2017, Daikin opened the country's third-largest manufacturing facility in Houston, Texas. For more information, please visit www.daikin.com.