Inaugural Leadership Dissertation Award Given for Research on Preventing Executive Burnout.
Every executive wants the leaders within their company to rise to the occasion. Some of them shine. But some burn out.
Why does this happen to some leaders and not others? And how can executives prevent burnout?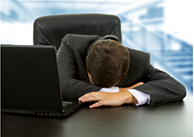 Dr. Stephen Courtright studied these questions in his dissertation, which earned the inaugural 2012 Alvah H. Chapman Jr. Outstanding Dissertation Award, sponsored by the Center for Leadership at Florida International University (FIU) in collaboration with the Network of Leadership Scholars (NLS), an internationally recognized chapter of the prestigious Academy of Management.
Alvah H. Chapman Jr., the award's namesake, was one of South Florida's most influential business leaders and was responsible in many ways for Miami's emergence as an international business center. The award was created to honor Chapman's legacy by recognizing an individual whose dissertation makes an outstanding contribution to the field of leadership.Dr. Courtright, now an assistant professor of management at the Mays Business School at Texas A&M University, was the first scholar to earn the Center for Leadership's dissertation award, which will be offered annually to the best dissertation on leadership submitted by recent Ph.D. graduates.
"It's really exciting to be partnering with FIU on this award," said Dr. Mary Uhl-Bien, a founding member of the NLS and Professor and Howard Hawks Chair in Business Ethics and Leadership at the University of Nebraska.
"It's the kind of initiative collaboration we need to help advance the mission of the Network, and more importantly, to help advance new understandings of leadership."
The mission of the NLS is to foster interconnectivity and create linkages to develop meaningful new frameworks for investigating and practicing leadership. Dr. Uhl-Bien said there are very few awards given for dissertations on leadership. "We already have the Eminent Leadership Scholar Award, which recognizes a senior scholar whose work best reflects the mission of the Network, and the dissertation award matches nicely by giving recognition to a young scholar."
Awarding Innovative Research
Altogether there were 20 submissions for the 2012 Alvah H. Chapman Jr. Outstanding Dissertation Award from various countries including the United States, Canada, Australia, Finland, Belgium, The Netherlands, Germany, New Zealand, and Switzerland. The submitted papers were reviewed by a committee of leadership scholars ranging in professional background and nationality. Six finalists were chosen from the blind review process and a secondary committee then selected the winning dissertation.
"We didn't want it stacked so that a certain type of dissertation would be likely to win," said Dr. Nathan Hiller, Associate Professor in the FIU College of Business Administration and Founding Fellow of the Center for Leadership. "We believe that good scholarship in leadership can take a variety of lenses."
For his dissertation titled, "Fired Up or Burned Out? Exploring the Effects of Leadership Behaviors through Engagement and Burnout," Dr. Courtright spent four months surveying a group of more than 150 managers and their subordinates. He surveyed managers twice during this time period and asked how engaged they felt in their work and the type of challenging assignments they were currently being given. He then asked the subordinates whether their managers stimulated creativity, served as a role model and built effective interpersonal relationships, or whether the managers retreated from their leadership duties.
"People have to be ready for challenging job assignments by feeling confident in their leadership abilities,"
said Dr. Courtright, who wrote his dissertation as a doctoral student at the Henry B. Tippie College of Business at the Universityof Iowa where he earned his Ph.D. in spring 2012. "I found that challenging job assignments really have the ability to engage and create transformative leaders. However, for some leaders, challenging assignments are detrimental. Rather than being engaging, challenging assignments can burn them out."
Dr. Courtright found that when managers feel burned out, it creates uncomfortable emotions at work. These leaders actually become worse leaders and withdraw from their leadership roles.
"This type of behavior - withdrawing from leadership duties - is just as detrimental as verbal abuse for the subordinates," Dr. Courtright explained. "When a leader is feeling emotional depletion and therefore retreats from his or her leadership duties, subordinates often experience health problems and even experience family problems."
Courtright to Present at the Center's Leadership Colloquium
As the winner of the 2012 Alvah H. Chapman Jr. Outstanding Dissertation Award, Dr. Courtright received a $3000 cash prize, expenses for travel to the national award ceremony held during the Academy of Management's Annual Meeting on August 5 in Boston, and the opportunity to present his research at the FIU Center for Leadership's Colloquium on October 23, 2012, Miami, FL.
"We are looking forward to hosting Dr. Courtright at the 2012 Leadership Colloquium," said Dr. Modesto A. Maidique, FIU President Emeritus and Executive Director of the Center for Leadership. "His dissertation is especially relevant in today's economic climate and deserving of the prestigious Alvah H. Chapman Jr. Outstanding Dissertation Award. His work on the connection between leadership training and challenging job assignments will contribute to the development of future leaders in organizations pressured to do more with less."
Dr. Courtright said that challenging job assignments and their role in leadership development is a topic that he is going to continue to explore. He plans on doing more research on how to mitigate the negative effects of challenging job assignments.
"In the end, a number of prominent scholars in the field of leadership were impressed by the overall quality of papers and were thrilled with the winning paper," Dr. Hiller said. "It speaks highly to the quality of research that [Stephen] did that his paper was selected. It was vetted by an impressive group of leadership scholars."