Shattering the Glass Ceiling: Women leaders take charge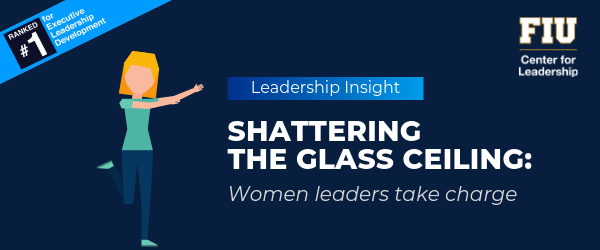 As a manager at Baptist Health South Florida, Gimena Basauri saw herself as a rising leader. Basauri connected with her team, developed each to their full potential, and produced results. But she also knew there was always room for becoming a better leader. Basauri had an idea that leadership development was important, but not how it would impact her life. At the time, all she knew was that she was an introvert and that leading conflicting personalities was an area where she wanted to improve.
Basauri's outlook and self-perception soon changed when she attended The Women Leaders Program at the Center for Leadership at FIU. For starters, the pre-program psychological self-assessments identified her strengths and areas in need of attention. During the program, faculty worked with her to explain that being an introvert was simply a label; it was in no way an indicator of failure nor success. The program taught her how to best use her leadership acumen instead of trying to change who she was.
"I didn't realize why I was challenged working with competitive personalities," said Basauri.
"By identifying and exploring my strengths I learned a more objective way to work to develop those to address my challenges."
Look in the Mirror!
"As women leaders, we often can benefit from taking a look in the proverbial mirror to help us see the strengths we may overlook in ourselves redirecting the energy we bring to our current and future roles," said Mayra E. Beers, Ph.D., a James L. Knight Research Fellow and the Director of Strategy for the Center for Leadership. "The Women Leaders Program helps develop leaders to fill the need for strength-based leadership that delivers results."
"We have spent a decade honing this program and turning out more engaged and effective women leaders," added Joyce J. Elam, Ph.D., Women Leaders Program Chair, and FIU Eminent Scholar and Dean Emerita College of Business. "The effect is clear with each woman who emerges from the program better prepared to lead more effectively today and into the future."
See exponential results
Baptist Health South Florida, a partner of the Center for Leadership since the program's inception, has sent numerous participants to all Center programs and in particular has sponsored more than 40 of their rising women leaders to the Women Leaders Program. One way The Center and its corporate partners celebrate is by seeing four of those alumni promoted to C-suite positions.
"And it's not just promotions. Each alumni of the programs emerges with a higher degree of self-awareness to leverage individual strengths and inspire greater achievements once back in the workplace." said Adrienne McCoy, CHRO with Baptist Health and one of the early graduates of the Center's Women Leaders Program.
"The Center for Leadership's programs don't teach you how to be a CEO or CFO. The program is agnostic as to your actual work function," said McCoy. "It's more focused on inward reflection and individual development. We've had high-impact women we've sent to the program who needed that last little push. You could see their strength and confidence level rise. That's where I've seen people turn a corner."
While the program doesn't distinctly target "work life balance," McCoy said the benefits are impactful. Important conversations related to empowerment and the social component of work and life often arise among attendees who are peers across various industries. Given that audience, the program also is a valuable networking opportunity. 
"The fact is you have to work on yourself more than anything," she said. "The rewards are exponential and even spread into your personal life. The advances you can make there come because you have better awareness of yourself as a total person – at work and at home."
Real-World Applications
Lori Kaufman was a manager of Life / Health Claims with State Farm Insurance when she enrolled in The Women Leaders Program in May 2018. This month, she's scheduled to be promoted to Assistant Vice President, Life/Health Services.
Kaufman attributes some of her success to what she learned about leadership and discovered in herself during those four days. The program helped Kaufman address what she calls, "leadership presence." Her reputation as "one of the quieter ones in the room" was interpreted by others as timidity or weakness.
The program taught Kaufman techniques "to improve how I show up to others," she said. She learned to improve her storytelling and to be more animated when speaking. The result was points made more powerfully. She practiced telling a story in front of the group, describing in detail how she planned to show up in an upcoming executive level meeting - from beginning to end.
"I could so powerfully envision myself being successful, that it changed me a bit," she said. "I find I have more confidence than I've had before to be present, state my opinions, and be part of the conversation."
Kaufman attributes her recent promotion in part to the confidence she gained at the Women Leaders Program. By revealing herself and her vulnerabilities, she became relatable to others in the program.
"I carried that ability forward into my how I lead today," she said. "I'm open with people who work for me. I share my stories both personal and work related, and I try to create an environment of trust where people know me, and I get to know them. This really sets a great foundation for getting things done and building strong teams. Participation in the program underscored for me that leaders create the environment, and that environment is critical to the outcomes we achieve."
Are you ready for the challenge?
The Women Leaders Program empowers established or emerging women executives to take charge of their leadership development. Seen as vital to continuous personal and professional growth, professional women from across the world gather to dive deep into gaining a fresh approach to lifelong leadership development. The program is based on the contemporary leadership competency paradigm developed within FIU's award-winning Center for Leadership and its groundbreaking research, best practices, and the depth of experience of veteran women leaders.
Join us in Miami, May 6-9 for the next Women Leaders Program and be transformed! Learn more here.
---
About the writer

South Florida native Jeff Zbar has enjoyed a 30-plus year freelance career as a journalist, editor, author, and marketing copywriter. His portfolio of print and digital work appears in media outlets and for corporate clients across all areas of business and industry.