2019: Another Year of Better Leaders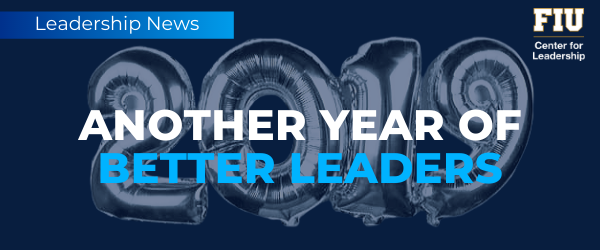 The Center for Leadership at Florida International University wrapped up 2019 by continuing a remarkable run in award-winning leadership development programs, leadership research, and engaging events with insightful speakers.
Impact
In 2019, The Center ran 22 open-enrollment and custom leadership programs with nearly 800 alumni. Programs were designed to focus on two epicenters of leadership development that helped leaders position themselves to make better decisions more often, get the best out of themselves and others, and deliver results: self-insight and developable skills. Custom programming was once again recognized by Chief Learning Officer. This year The Center for Leadership at FIU was awarded the Learning in Practice Silver Award.
A number of engagement events were hosted this year including The Leadership Lecture Series presented in partnership with Amerant. The Leadership Lecture Series showcased three speakers who shared their leadership insights from business, sports, and entertainment industries. These events were attended by nearly 1,500 students, faculty, and staff. They also recognized its fifth Emerging Leader, Meena Jagannath, co-founder of the Community Justice Project, Inc. who inspired the audience and showcased Miami's bright future. Additionally, they hosted an insightful Faculty Series Lecture with David B. Day, Ph.D., from the Kravis Leadership Institute at Claremont McKenna College.
The Center continued to engage in research initiatives to re-examine leadership best practices. The research team is in process of launching a newly updated web-based version in 2020 of The Leadership Competency Builder© which was designed to help business leaders identify critical leadership competencies needed to position themselves or their organizations for sustained future success.
"We work hard to foster a local and global community for individuals, teams, and organizations to 'do' leadership better – by using the science of leadership," said Dr. Nathan Hiller, Academic Director of The Center for Leadership.
"From our Leadership Lectures, to conducting and showcasing new research, to award-winning partnerships and programs that truly impact performance metrics, our scope of work and success has established a standard of excellence that we continually try our best to surpass from one year to the next. Our line-up for 2020 will keep us on the path of provocative, inspired and insightful leadership development."
2019 Highlights
1 Chief Learning Officer Silver Award
52 unique days of programming
791 Program Alumni
1,441 community members, faculty, staff, and students at engagement events
1 Dissertation Award winner
16 fantastic Center staff 
2019 Recap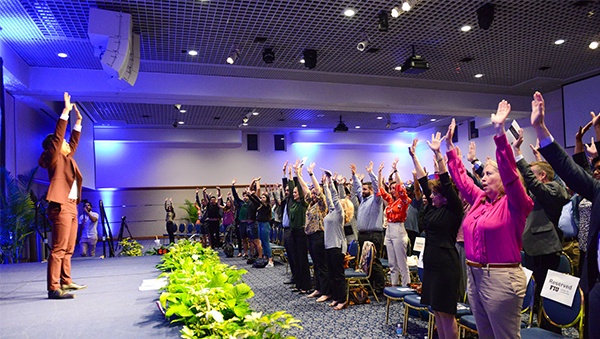 The Center's Leadership Lecture Series kicked-off in January with the stage high-flying violinist Roddy Chong. Whether performing before two million with the Trans-Siberian Orchestra at Berlin's Brandenburg Gate or presenting his views on leadership presence to organizations such as Boeing, Kraft Foods, and Bayer, this "top-five business speakers to see" revealed on how individuals can "beat the odds" to realize their potential and deliver rock star performances.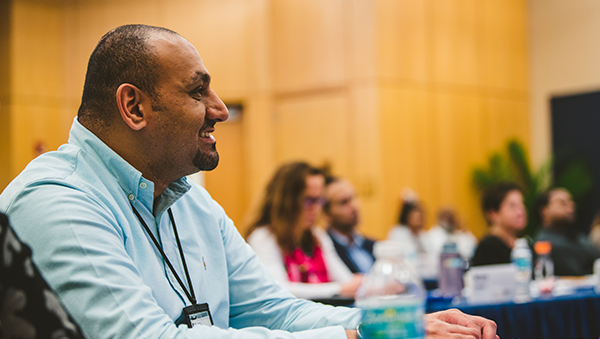 February's inaugural Leadership Accelerator Program included 32 participants from 14 organizations. Based on The Center's research, the program focused on transforming new managers from individual contributors to operational leaders through building greater self-awareness, taking action to develop their skills and behavioral repertoire – and continually become better and more effective on the path of accelerating their leadership momentum.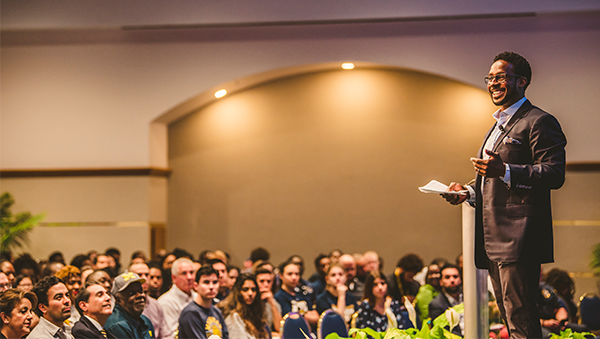 When Desmond Howard took the stage for the March Leadership Lecture, the ESPN college football analyst shared his belief that "self-defeating attitudes create self-defeating behaviors" – and his coach's tough love and relentless conviction helped Howard develop the skills to win the Heisman Trophy – and eventually the Super Bowl MVP.
April saw two important events: The Leadership Essentials Program "Pathways to Leadership" which covered topics related personality and decision-making, connecting with others and leveraging networks. Fifty attendees left with insights and skills needed to hone their leadership skills toward greater success.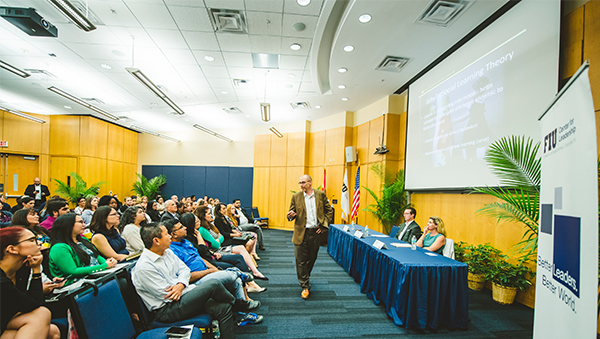 The 8th annual Leadership Research Colloquium, in partnership with Capital Bank Foundation, brought together three leading experts in April to present developing, extant and cutting edge leadership research. Cecily Cooper, Ph.D., associate professor with the School of Business University of Miami, explored the roles of trust, humor, fairness, and how front-line employees develop trust in a new executive leader. Craig Crossley, Ph.D., associate professor of business management at the University of Central Florida, reviewed three recent studies into whether leaders who behave ethically can have a positive impact on employee ethics, company performance, and their own career outcomes. Lastly, Center for Leadership academic director Dr. Nathan Hiller, who published three papers this year, discussed his groundbreaking new work into the downside and upside of a "paternalistic leadership" approach that some leaders use - who think of their role as a well-intentioned authoritative figure.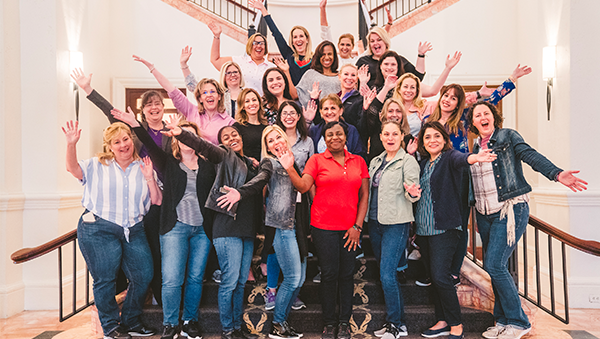 In May, the 25 women executives who attended The Women Leaders Program found the annual program the "perfect setting to connect with powerful, intelligent and strong women." Research-backed content provided practical and innovative ideas, skills, and solutions for advancing professional goals and the strategic development of their organization.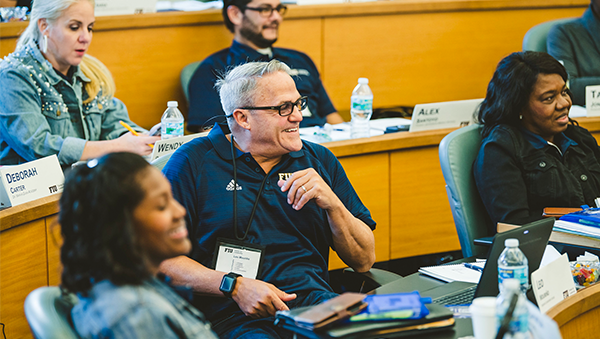 In June, the award-winning Miami-Dade County Public Schools Principals Leadership Development Program and the Broward County Public Schools, Principals Leadership Institute program, once again collaborated with The Center to empower principals in their role as effective leaders and change agents across the South Florida community. Said one principal, "You rekindled my passion for learning and...I am very excited about leading my staff this upcoming year."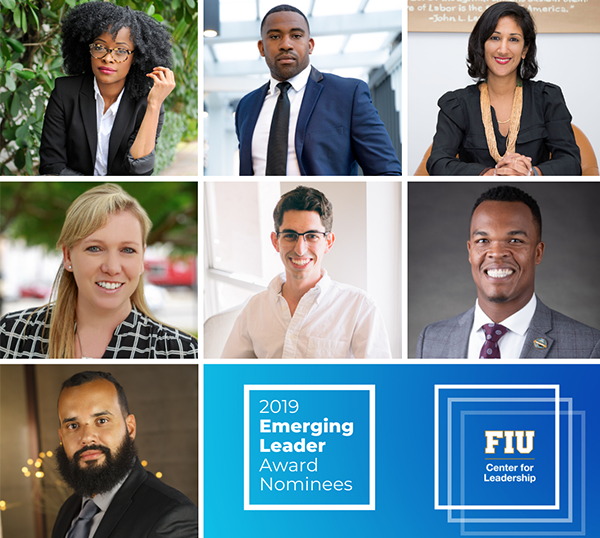 In July, The Center announced the nominees for the Emerging Leader Award. This year's nominees included Suze Guillaume, a Miami-Dade College academic and career advisor; Rodney W. Jacobs, assistant director of the City of Miami Civilian Investigative Panel and a military intelligence lieutenant in the US Army; Lindsey Linzer, senior director of programs and grants administration at The Miami Foundation; Raul Moas, Miami program director of the John S. and James L. Knight Foundation; Rashad D. Thomas, vice president for business connect and community outreach of the Miami Super Bowl Host Committee; Carlos Vazquez, an education technology entrepreneur and CEO of Miami EdTech; and eventual winner Meena Jagannath, a social justice lawyer and co-founder of Community Justice Project, Inc.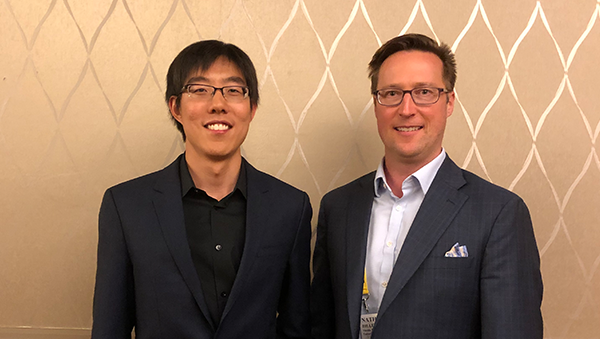 In August, The Center selected Dr. Jackson G. Lu as the winner of the 2019 Alvah H. Chapman Jr. Outstanding Dissertation Award for his work on globalization and leadership. Established in partnership with the Network of Leadership Scholars (NLS), the award honors an individual whose dissertation makes an outstanding contribution to the field of leadership. Dr. Lu will present his findings at the Leadership Research Colloquium in Spring 2020.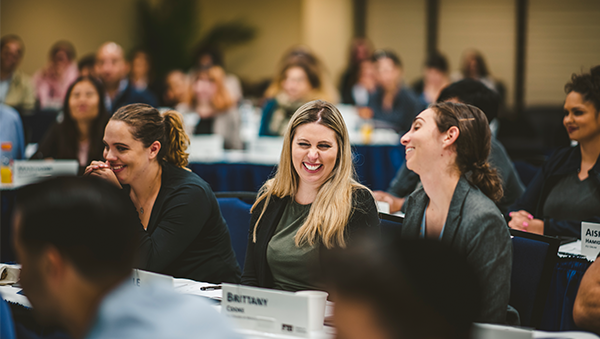 In September, the year's second Leadership Essentials Program – "Drivers for Success" - helped 72 participants advance their path toward heightened success in their careers, companies, and communities with the personal insights and development skills required to hone their inherent leadership identity.
In October, social justice lawyer, international human rights advocate, and community activist Meena Jagannath was named the recipient of The Center's 2019 Emerging Leader Award. Now in its 5th year, the award honors South Florida's next-generation leaders under the age of 40.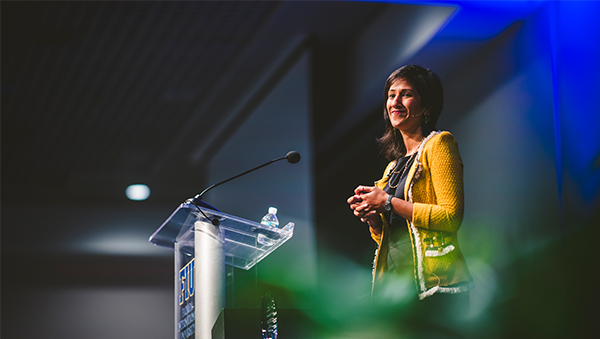 The month also saw The Center host its annual High-Impact Leadership Program, which arms companies in the global marketplace with an undeniable secret weapon and competitive advantage: well-trained leaders. The second offering of The Leadership Accelerator Program challenged 27 participants to become more self-aware and to take action - and evolve from task-oriented contributors to operational leaders.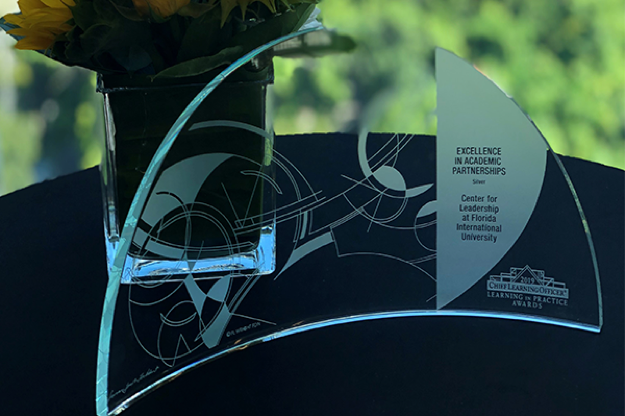 Also in October, The Center for the second time received the silver Chief Learning Officer Group (CLO) Award for Excellence in Academic Partnerships, this time for The Center's work with Daikin companies in North America, part of Daikin Industries, Ltd. The award-winning program was an executive learning initiative designed to build strategic capacity, drive development and effectiveness using multi-modal learning, and action plans for energizing the entire organization.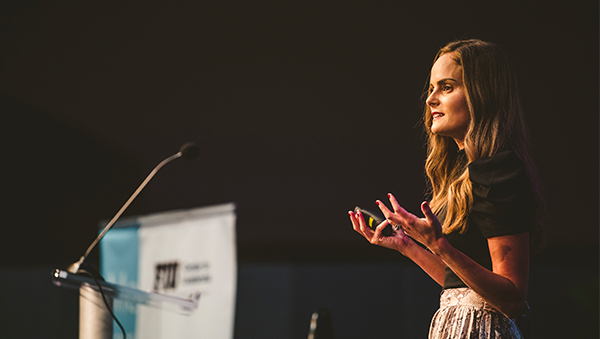 In November, Miami tech executive and working mother of five Melissa Medina of eMerge Americas discussed "The Great Balancing Act" as part of The Center's Leadership Lecture Series. She dispelled the naysayers who claim it's impossible and even "crazy" for Melissa to have become successful by sharing her journey to the top.
In December, The Center's milestones included a move to its new offices on the fourth floor of the Management and Advanced Research Center (MARC) building, from which the team will continue to conduct leadership development research and programming that transforms and emboldens individuals and organizations to positively impact our world.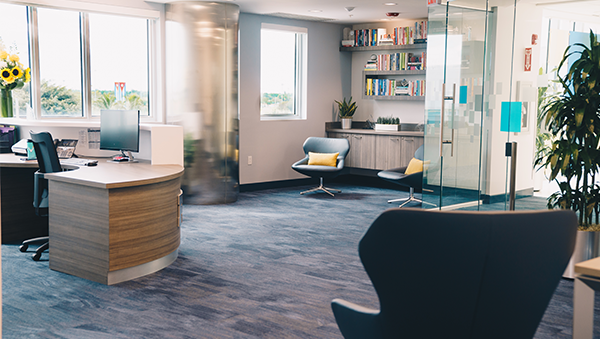 Thank You
"None of our work is done alone – and we have a fantastic group of partners who work with us. The guidance and trust of our board of advisors, alumni, program participants, and partners like Amerant have each played a critical role in helping The Center achieve its mission. We thank them for their partnership today and look forward to working with our long-time partners as well as with new friends and partners we have yet to meet."