From Clerk to Chairman: Sara Mathew Dares to Lead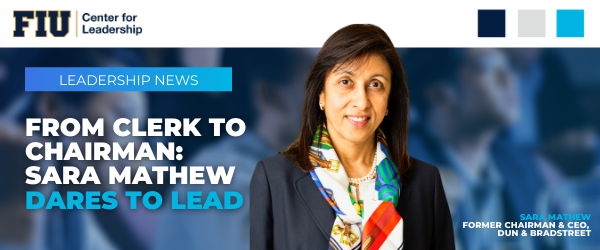 What does resilience, determination, and learning to lead strategically look like for a young immigrant woman from India? Arriving in the US, Sara Mathew took the job of a clerk at Procter & Gamble - something her peers called a bad decision – and eventually became the CEO and Chairman of one of the oldest and most successful companies in North America.
What she learned along the way was how very public failure, and eventually daring to dream, to take risks, to do the right thing, to become a "learning leader" - made Mathew a coveted leader.
Join the Center for Leadership at FIU as Executive Director Dr. Nathan J. Hiller, Ph.D., and former career P&G executive and Center Chairman Manny Gonzalez host a conversation with Sara Mathew as part of  The Leadership Lectures. The conversation will virtually take place on Tuesday, October 27 from 10:00am – 11:00am EDT.
"Two things I find fascinating about Ms. Mathew are how she committed to continual personal leadership growth throughout her career, and her ability to navigate through turbulent times. These are lessons we all need to be reminded of", said Nathan Hiller, Executive Director, of the Center for Leadership at FIU.
"Naysayers said 'nobody moves up the ladder [from clerk] at P&G,'" Mathew recalled at a presentation given at the P&G Alumni Conference. Within two years, as she earned her MBA at night from Xavier University, and Mathew had risen past those who started at her side.
With her degree and commitment reflected in 18-hour days, Mathew was climbing that ladder. In time, she rose from assistant treasurer and director of investor relations, comptroller for the paper products division, CFO of P&G's Global Baby Care business unit, culminating in company vice president of finance for Australia, Asia and India.
She left to become Chief Financial Officer of one of the most important providers of corporate data and information - Dun & Bradstreet in 2001. Asked in 2009 to become CEO and chairwoman at a sagging company during the depths of the great recession, she hesitated, but then committed. She eventually transformed the company's tech and business model, oversaw a leveraged recapitalization of the company - the largest in its 175-year history - eventually being named a "top value creator" three years running.
She called the turnaround of D&B "the greatest leadership growth of my lifetime."
Among her dares to succeed...
Dare to dream. "Define your aspiration and pursue it with passion," she said. It was a belief instilled by her mother and cemented by her husband. "Never stop dreaming."


Dare to take risks. Named to head investor relations, Mathew oversaw a horrible earnings call, only to follow up with future calls that then-CEO John Pepper said "set a benchmark for excellence," she recalled. "Failure will teach you much more than success ever will."


Dare to do the right thing. After nine months as CFO with D&B, Mathew told her CEO they had to restate their books. It discovered 10 years of bad accounting, but no loss of confidence in her team or company. "How many CFOs get to restate their books and not get fired?" she asked.


Dare to become a learning leader. Instead of it taking a year or more, Mathew delivered the restatement in eight weeks. This led to overworked and frustrated employees. When her CEO questioned the emotional cost, Mathew asked whether the company wanted good results or happy employees. "He looked me square in the eye and said 'great leaders do both,'" she recalled. "That forced me to take a pause and look at who I am and how I get things done." In three years, her employee scores were world-class.
"This experience taught me a valuable lesson about leadership and improved my understanding about the esoteric subject of leadership,"
said Mathew, who in 2019 was elected chairwoman of the board of Freddie Mac, and holds or has held board positions with State Street, NextGen SPAC, Reckitt Benckiser, the Campbell Soup Company, Shire, Zurich Insurance Company Ltd, and Avon. In 2012, her leadership was recognized and she was named to Financial Times 50 Women at the Top and in 2013, Top value creator in the S&P500 by Chief Executive Magazine. "Everyone of us strives to live purpose-driven lives. Purpose inspires a leader and galvanizes a team."
Join us for the lecture
Join us on Tuesday, October 27, 2020, as Sara Mathew, Former Chairman and CEO of Dun & Bradstreet, presents "Dare to Lead" as part of the Leadership Lecture Series.
Thank our university partners, FIU Honors College, and FIU Office of Engagement for their support.
---
About the writer

South Florida native Jeff Zbar has enjoyed a 30-plus year freelance career as a journalist, editor, author, and marketing copywriter. His portfolio of print and digital work appears in media outlets and for corporate clients across all areas of business and industry.