DNA of a Leader: CareCloud's CEO talks leadership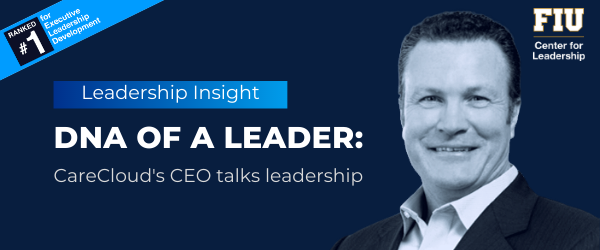 Ken Comée arrived at Miami-based health care tech firm CareCloud after a successful career leading Silicon Valley teams and companies. Though his geography changed, his approach to leadership hasn't.
Comée was former CEO of PowerReviews, the world's largest social commerce network, and CEO of Cast Iron Systems, which Comée grew from start-up to the leader in cloud integration and oversaw 10-fold revenue growth and eventual acquisition by IBM.
Today, he and his eight-person executive leadership team oversee 250 people in Miami and around the country. 
Growth came, in part, by keeping employees informed and engaged. Comée hosts a monthly company-wide video podcast. During his quarterly "State of the Cloud" all-hands, he spends several hours sharing company KPIs and performance and recognizing top performers.  
"I spend a lot of mental energy focusing on our people. Are they engaged? Are they focused on the right goals? Are they working together in tight alignment?" he said. "As a lean, growth-stage company in a highly competitive and rapidly changing technology market, the human factor is the X factor that can make or break you." 
In the following discussion, Comée reveals what almost three decades as a technology executive taught him about leading cross-generational teams, "partnering" with stakeholders, and the importance of always asking, "Why?".
Ken's Style
Q: You spent 25 years as a "Silicon Valley tech guy." How has its own leaders – Bill Gates, Steve Jobs, Mark Zuckerberg, Jeff Bezos, or Meg Whitman – impacted your leadership style?
KC: There is a lot of talk around individual leadership styles of these CEOs and founders.
Building companies is a team sport and if there's one lesson that has impacted me the most, it's how to bring a partnership mentality when working with investors, your team and customers. Being transparent, having candid and direct conversations and setting a clear vision are the most important elements of building anything significant.
When you have these elements, you are in a much better position to take the kind of intelligent risks that these leaders have taken successfully.
Q: What characteristics do you think have been most enduring or pivotal to your career success?
KC: The qualities that have been most pivotal to my success throughout my career are those associated with being a great salesperson - professionalism, clear communication, respect for your client, perseverance, ability to communicate value, knowing how to tweak your message based on your audience, and having a keen sense of the underlying motivations and emotions of people. I was fortunate to learn this early on, so for me, it has been more about a process of refining them over the years.
Leading Others
Q: How do you encourage leadership excellence from your team?
KC: It starts by setting high expectations for myself -- and showing up every day with the focus and tenacity I expect from those on my team, particularly leaders and managers. Leading by example may sound a bit cliché, but I really do ascribe to that view. Two things that are absolutely critical to achieving excellence are having accountability and a clear alignment around the long-term goals of the organization. I understand that every leader has their own style and their own way of managing teams. I see an important part of my role is to be a coach and mentor for leaders in aligning their personal approach with our organizational priorities and values. I also believe in a healthy amount of pressure or push to ensure that everyone is constantly growing and reaching their full potential.
Q: You have teams from Millennials to Baby Boomers. What do you find hardest about leading teams today, and how have you had to change and evolve over the years as a CEO?
KC:
The most challenging part of leading teams today is recognizing the underlying drivers and motivations for those within the team. We come from a richly diverse set of backgrounds, life experiences and work experiences. It is important to be able to step outside of yourself and see things through a completely different lens.
The last five to 10 years, I have seen a shift in this millennial wave that's coming into the workforce. They are different and they are all about that work-life balance and don't buy into the 60+ hour work weeks. You really have to find the pace that fits the people that you have working for you. They also say things like, "It's important for me to work for a company I respect." They want to feel good about the business model, the people and how the company conducts itself. It's beyond perks and the appeal of their own job. They want to work somewhere doing something that aligns with their beliefs.
Leadership Inspiration
Q: What keeps you on the edge of leadership learning?
KC: I get the most out of my personal interactions with other leaders – the one-on-one conversations I have in daily interactions with clients, my board, business partners, and employees. This is the real-world learning you can only get from people who are grinding it out every day and experiencing the same kinds of challenges you are facing. I tend to gravitate towards individuals who are doing cutting edge things, so they are a great classroom.
Q: You can invite three leaders to dinner. Who and why? 
KC: I'm fascinated by history and war planning. I would travel back in time to have dinner with leaders from World War II – Churchill, FDR, Eisenhower, and MacArthur. We would talk about leading when your back is against the wall and with so much at stake. It would be incredible to hear their stories first hand.
Leadership Takeaways
Q: How do you unwind?
KC: In this business, things are always on and you can burn out. I try to disengage on a Friday night, and go by the mantra that my weekend is my weekend. What grounds me is boating and fishing. I keep a boat down in the Keys and I'm on it often. That is my peace time.
Q: What leadership advice can you give our readers?
KC: Before my first company sold to IBM, I was just all-out, 24/7, working 60-80 hour weeks. I was a Silicon Valley guy doing startups since 2000. It's just not sustainable. I was 47 when I sold it. When I went into my next company, I realized that I couldn't maintain the same pace and keep the mental sharpness when you're working those hours. My recommendation to others is to spend time reading on the importance of self-care.
---
About the writer

South Florida native Jeff Zbar has enjoyed a 30-plus year freelance career as a journalist, editor, author, and marketing copywriter. His portfolio of print and digital work appears in media outlets and for corporate clients across all areas of business and industry.