4 Ways Leaders Change the World by Thinking 'Outside the Building'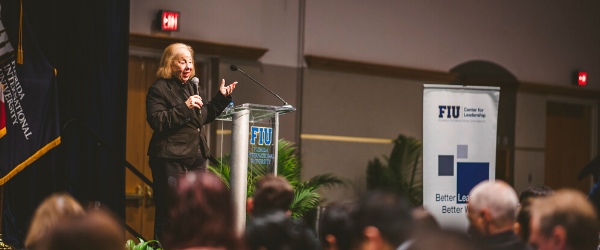 Some of the biggest ideas to tackle "complex, messy, and recalcitrant" problems in education, philanthropy, social inequality, even the arts and culture, came not from within the corporate environment, but from outside its walls.
In her latest book, "Think Outside the Building: How Advanced Leaders Can Change the World One Smart Innovation at a Time," Harvard professor Rosabeth Moss Kanter explores how innovative thinking that transcends traditional models is finding solutions to timeless problems.
Speaking at a recent Leadership Lecture con Tostada, a collaboration hosted by the FIU Center for Leadership and the FIU Office of Engagement, Kanter called "outside the building" thinking the "leadership skill of the future."
"We've known about these problems for 60 years. Why haven't they been solved? Because leaders and officials get stuck inside the building and institutions that reinforce doing everything the same way it's always been done," explained Kanter, who co-founded and until recently directed the Harvard University Advanced Leadership Initiative.
"There's huge pressure for people to conform to practices in place. If we're going to do something about issues, we need fresh thinking that often comes from outside the silos and structures that confine us."
During her lecture, Kanter offered four key strategies to drive innovative thinking that goes beyond the walls.
Have a bold idea or vision
Kanter provided us with examples of how "Outside the building" thinkers unleash big ideas. Vanessa Kirsch founded New Profit, a venture philanthropy organization that provides growth capital and strategic support to breakthrough social entrepreneurs. Brazilian journalist Gilberto Dimenstein's "Catraca Livre" applies digital technology for social good. Some 50 million unique visitors find free access to education and culture on the site, which has been named by "Financial Times" as one of the most inspiring applications of its kind. A Washington couple created a way for highly-skilled refugees to enter the job market, bridging the workforce gap and providing stable jobs often in remote communities. The effort is being examined by the U.N. High Commission on Refugees as a potential global model. "Those bold ideas make a huge difference," Kanter told the audience.
Tell a compelling story
"Leaders create narratives" that tie the past to the present and the future, she explained. When Milwaukee was branded a "rustbelt" city, leaders instead told of the jobs, research, and technology borne from their waterworks. In 2009 earned the designation as a United Nations Global Compact Innovating City. When New Orleans Mayor Mitch Landrieu hoped to enlist people to help host the city's tricentennial celebration, Confederate monuments some found "deeply offensive" stood in the way. So the mayor ordered them removed, Kanter said. "He rewrote that history. He got rid of the statues and positioned his city to be an inclusive city for the future. That's telling a new story."
Pitch a big tent
Inclusive stories invite others to join. After a television reporter was killed by a drunk driver, Jay Winsten of the Harvard T.H. Chan School of Public Health worked with media executives and Hollywood producers to promote a new concept called "the designated driver." In time, being the sober friend was a point of pride. "It was powerful because it was 'we,'" Kanter said. 
Build a coalition
It takes more than a village to have an impact. It takes a cross-section, multi-stakeholder coalition of allies and partners from outside one's industry or sector. In a "true reinvention" of high schools, P-TECH, or Pathways in Technology Early College High Schools, brought public schools, colleges, and area employers across the retail, tech, and healthcare space together to offer high school students a chance to earn their high school and AA diplomas in an accelerated program. "It created a new partnership between existing entities that do things a different way," she said.
A creative approach to bold ideas does more than invite change. It invites others to participate and even to be led by those without direct power over them. The ability to persuade others to join in a coalition will mark the redefinition of leadership.
"Instead of hierarchy, we use hustle," she said.
"Those skills where you persuade partners that you don't control are among the most important leadership skills of the future.
"I have a pet peeve – and it is the phrase 'think outside the box', said Dr. Nathan Hiller, academic director of the Center for Leadership. "It is overused to the point of being meaningless. What Dr. Kanter does is help us to be substantive and concrete around innovation and change by actually getting to the HOW of implementing this overused phrase. She does so by encouraging us to think outside the building. This small change in wording, in fact, cues us to an important, and finally useful, phrase. We need to set up our relationships and partnerships differently by expanding how we go about innovation – rather than this idea that we need to be creative in thinking up new ideas."
---
About the writer

South Florida native Jeff Zbar has enjoyed a 30-plus year freelance career as a journalist, editor, author, and marketing copywriter. His portfolio of print and digital work appears in media outlets and for corporate clients across all areas of business and industry.