Leading Well – Recap and Takeaways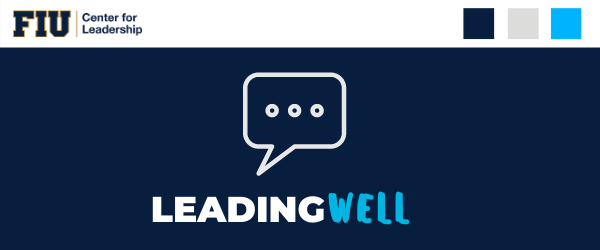 Leading Well  was developed to engage the community we serve through digital conversations with academics, business executives, executive coaches, community leaders, and leadership experts. These wide-ranging discussions cover topics from personal growth to leading others, and human development to leadership best practices, with a goal of engaging leaders at all levels. Through this series, we provide access to expertise, insight, advice, and best practices on topics related to leadership, leadership development, and  leading well.
Our key takeaways from the digital conversations are below.
---
A view from space: leadership lessons from NASA for you, your team, and your organization
Date:
Wednesday, May 13, 2020

Guests:
Dorothy R. Carter, Ph.D. and Nathalie Guevara, Ph.D.
Key takeaways:
Strike the right balance between assertiveness and "this is what I'm focused on achieving."
Be confident about what you know, but also humble about what you don't know.
Maintaining a positive perspective will push you through the most challenging of times.
Be intentional about the culture that you are trying to create.
Strike imposter syndrome by building credibility.
Watch the full conversation here.
---
Guiding yourself and others through tough situations
Date:
Wednesday, May 27, 2020
Guest:
Michael Woodward, Ph.D.
Key takeaways:
Be an investigator. Be curious. Suspend your judgments but avoid the advice trap.
Understand that everyone is feeling lonelier. If you don't understand their circumstances, you're not going to be able to help them and really dig in.
An executive coach is a catalyst for change.
Be careful…Even as a leader it's easy to fall into the belief that you are the wisest on the topic and it's easier to tell your employees what to do.
If you reflect too long, you could be ruminating.
Watch the full conversation here.
---
Executive Edition 
Date:
Wednesday, June 10, 2020
Guests:
Joseph Caruncho and Lynn A. Gross
Key takeaways:
Break silos. Bring people together from different departments to collaborate.
Be more visible during this time – chime in with more emails, sit in on more calls.
Everything in life comes with a bit of fear and doubt. If you don't feel either, you're not pushing yourself out of your comfort zone.
An external force has made us evolve, become innovative, and build resilience.
Model with authenticity and appropriate level of self-disclosure.
People are always watching. You have to set an example.
Watch the full conversation here.
---
Design your better life
Date:
Wednesday, June 24, 2020 

Guest:
Ebony Smith
Key takeaways:
Let go of the things that are working to experience the discomfort of growth.
Invest in yourself every day to see the changes you want.
Use meditation as an internal reset.
Write down five small wins for the day.
Shyness is not an excuse; it is a trait you can workaround.
Make a list of things that trigger you and things that rest you in the moment.
Attention energizes but intention performs.
Give your people the leeway that stretches their capabilities and encourages their growth.
Watch the full conversation here.
---
How do you leave your mark?
Date:
Wednesday, July 22, 2020 

Guest:
Roberto R. Muñoz and Austin Hollo
Key takeaways:
A promise is the experience of life you need to carry yourself through. It's not only for someone else, it's for yourself.
You need to get inside your mind to drive yourself to higher levels every time.
Skill and precision are the definitions of success.
You have to develop a deep sense of the people around you - including the people at the lowest level.
The definition of humility is not thinking less of yourself but thinking of yourself less.
Even if you think you know what to do, gather information, and learn different perspectives. 
Find a mentor who can set you on the right path and lead you in the right direction.
Always look for the best idea whether it is your idea or not.
Work hard until you get there. When you get there work harder. 
Watch the full conversation here.
---
How to become a superboss
Date:
Wednesday, August 26, 2020 

Guest:
Sydney Finkelstein, Ph.D.
Key takeaways:
A

Superboss

is a leader who creates other leaders. They leverage their own abilities to better others.

Reflection is central to leadership.

Impactful people have different skills but what ties it all together - they're generalists. They understand people, they understand change.

Help the people on your team excel. The better they are, the better you are.

Necessity is the mother of invention.

Curiosity and creativity have never been more important - Superbosses unleash the creativity of the people around them.

People leave because they don't have opportunity. They've outgrown the canvas and are seeking a bigger platform.

The best leaders engage in self-reflection. Every leader at every level, needs to be approaching their life and leadership as "how do I get better?"
Watch the full conversation here.
---
Start ups, Buildouts and Helping Others Success
Date:
Wednesday, October 21, 2020 

Guest:
Michelle Abbs and Peter Montadas
Key takeaways:
As leaders, in order to be there for our team and work through challenges, we have to have self-awareness to show up as a leader.

These dire moments push us to find more creative solutions.

Circumstances create a situation where you have to make a decision.

Be kind and empathize with your team. Be aware of what's going on. Not everyone is in the same situation as you.

You have to do things in steps to get where you want to go.

If your path doesn't match your north star, find something else.
Watch the full conversation here.
---
Future-Proof Your Development
Date:
Wednesday, Feburary 10, 2021

Guest:
David Van Rooy, Ph.D
Key takeaways:
If you're not happy with what you're doing, go after something you'll love more.
Be open to things that may not be the obvious path but add to your experiences.
Don't see fear as a limitation. Find the optimal spot where you can harness your fear.
It's not about attaining a title - what is it you want to do? What are you passionate about?
Define what success means for you.
Watch the full conversation here.
---
Executive Presence: Own the Room and the Zoom
Date:
Wednesday, March 3, 2021

Guest:
Carol Lempert
Key takeaways:
In the world of Zoom and virtual meetings, being explicit will get you more engagement.
Ask for engagement in subtle and inviting ways, so it is more welcome than invasive.
Use names, various engagement tools, ask questions and be inclusive in the conversation.
Always start by asking "what is the goal of this meeting?"
Find the balance between being professional but also showing authenticity and humanness.
Watch the full conversation here.
---
Juneteenth: Looking Back, Moving Forward, What's Next @ FIU
Date:
Wednesday, June 14, 2021

Guest:
Dr. Alexandra Cornelius, El Pagnier Kay (EK) Hudson and Saif Y. Ishoof
Key takeaways:
The journey that we all have to be upon, is spending the time to connect in community with the spaces that are able to animate the histories of distinct communities.

 
Is our society one that recognizes a shared sense of humanity across the lines of race, gender and sexuality? Are we all truly free?

Juneteenth is an opportunity to learn, engage, listen and evolve our understanding of the experiences of our black brothers, sisters and community.
Watch the full conversation
here.
---