The Leadership Lectures: Susan L. Taylor
About the Lecture
After 27 years as the chief editor of Essence magazine and the visionary credited with building the brand, Susan L. Taylor left publishing to devote her life to building an organization that is devoted to breaking the cycle of intergenerational poverty among African Americans. The National CARES Mentoring Movement is that organization: a community transformation crusade dedicated to "changing the predictable futures defined for our young who are struggling along the margins and living with the indignity of poverty," she says
At Essence magazine, Taylor not only served as chief editor, but also authored the magazine's most popular column, In the Spirit—the first in a mainstream U.S. magazine to champion spiritual growth as a pathway to total well-being and a meaningful life. Under her guidance, the publication's readership soared to eight million in the U.S., the Caribbean, Canada, the U.K. and English-speaking African nations, and the Essence brand expanded into book publishing, broadcasting, eyewear, hosiery and its own fashion catalogue. But nowhere outside the magazine did she bring people and Black culture together so beautifully as with the launching of the Essence Music Festival and its famous empowerment seminars.
Founded by Susan Taylor in 2005 as Essence CARES, the National CARES Mentoring Movement is the fastest growing mentor-recruitment organization in the nation. In 58 U.S. cities, local CARES Affiliates recruit, train and deploy caring adults to schools and a wide variety of youth-serving organizations that are desperate for Black volunteers to serve as mentors, tutors, reading buddies and role models. Big Brothers Big Sisters, the Boys and Girls Clubs of America, Boy Scouts and U.S. Dream Academy are among the hundreds of organizations for which the CARES volunteer army of passionate CARES Affiliate leaders recruit mentors. To date, National CARES has recruited more than 130,000 mentors.
Deepening her commitment to create pathways out of poverty that equip children with the confidence, well-being and skills they must have to succeed, Susan Taylor is leading National CARES in taking a bold leap forward. In 2009, Taylor formed a brain trust of nationally renowned educators, community activists, business and faith leaders, physicians, psychologists and nutritionists. Their charge was to bring their best thinking to moving what is most needed for African Americans to move to wellness in body, mind, spirit and community. A New Way Forward: Healing What's Hurting Black America was the outcome, an initiative and training manual for mentoring our young and healing communities.
About the Speaker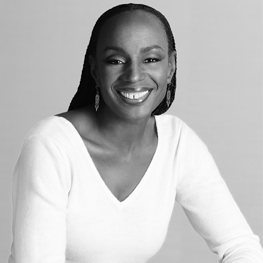 Founder & CEO, National CARES Mentoring Movement & Editor Emerita of Essence Magazine. Susan L. Taylor is the editor of eight books, and the author of four books: the best-seller In the Spirit; Lessons in Living; Confirmation: The Spiritual Wisdom That Has Shaped Our Lives, which she co-authored with her husband, Khephra Burns; and her most recent book, All About Love. Taylor's genius has not gone unrecognized. She is the first and the only African American woman to be recognized by the Magazine Publishers of America with the Henry Johnson Fisher Award — the industry's highest honor — and the first to be inducted into the American Society of Magazine Editors Hall of Fame. She is the recipient of scores of prestigious awards, including presidential citations, Image Awards and the NAACP President's Award for Visionary Leadership, and has honorary doctorate degrees from more than a dozen colleges and universities.
When
Tuesday, October 4, 2016 9:30 a.m.
Where
Graham Center Ballrooms, Florida International University
Modesto A. Maidique Campus
11200 SW 8 Street, Miami, Florida 33199
---
The Leadership Lectures are presented with the generous support of Mercantil Bank.

In an effort to optimize participation in our lectures we strongly urge you to register online to reserve your place and arrive early to claim your seat. While we are unlikely to turn anyone away, we are limited to the capacity of the lecture rooms and event spaces. Many thanks in advance for your understanding and cooperation.