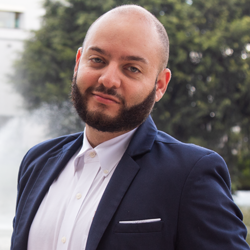 CONTENT STRATEGIST
EMAIL: jmesa@fiu.edu
Florida International University 
Center for Leadership 
11200 SW 8 ST, MARC 326 
Miami, FL 33199 
Phone: 305-348-5323
Jorge Mesa is the Content Strategist for the Center for Leadership at Florida International University (FIU).
As a marketing professional, Jorge uses data science, research, and analytics to plan and deploy all marketing initiatives. Jorge is currently focused on implementing highly-effective strategies such as emotional intelligence within the communication sequence, benchmarking techniques that measure KPIs and targets, developing a high-octane lead generation plan, and a branding and positioning initiative for The Center.
Prior to joining The Center, Jorge was the Assistant Director of Marketing at the University of Miami. He was responsible for improving the university's marketing efforts through a major website redesign, new email marketing practices, implementation of analytics, enrollment management strategy, and more.
Jorge currently holds a Bachelor of Science in Communication: Digital Media from Florida International University (FIU). He accounts his passion for leadership through a book he read when he was 15 called, The 21 Irrefutable Laws of Leadership: Follow Them and People Will Follow You.